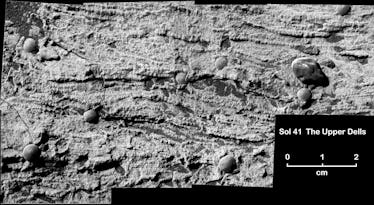 This Mars Rover's Lost Connection With NASA Reminds Twitter Of A Sad Breakup & It's So True
NASA/Getty Images News/Getty Images
If you're not obsessed with space or particularly active on social media, you may (incorrectly) assume the recent flood of tweets about the Mars Rover Opportunity wouldn't pertain to your life. Au contraire, my friend. Perhaps the breaking news of NASA calling it quits with Opportunity ("Oppy" for short), after trying to reconnect with the rover for close to a year, is the essence of the never-ending surprise party (that you didn't want to go to in the first place) that is love in the modern era.
With headlines ranging from "Nasa Makes Final Attempt To Communicate With Mars Rover" to "NASA Is Saying Goodbye To Its Opportunity Rover On Mars After 8 Months Of Radio Silence," the news that the rover essentially lasting 15 times longer than it was meant to and then straight ghosting NASA could not more perfectly encapsulate today's dating trends.
In all seriousness, the rover is the culmination of years of hard work, research, and amazing scientists, a lot of whom are baller women in STEM — Hey-oh!
If you're still not convinced that this is the love story of our generation, here are eight tweets about Opportunity and NASA's "breakup" of sorts that will straight-up make you sob.