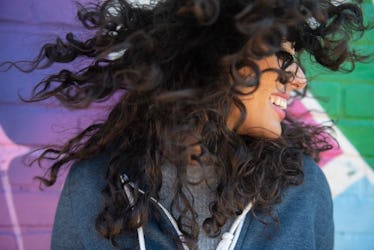 12 Breakup Anthems That Gave Me Life In 2018 & Made Me Say, "Thank U, Next"
OK, so I think almost everyone can agree that breakups aren't fun. But if there was any time to go through a breakup, it was this long as heck year for one reason and one reason only: breakup anthems. There were quite a few songs released in 2018 designed to soothe your broken heart. To celebrate these healing bops, I've compiled a non-comprehensive list of the best breakup songs of 2018. Breakup anthems are amazing because they can simultaneously tend to your aching heart and remind you that you can still dance all by yourself.
I always look forward to the Spotify Wrapped end of year personalized playlist. And, I don't know about you, but my 2018 Wrapped playlist was filled to the brim with breakup songs. It seems as though the songs I played most were the ones that sang me out of relationships and soothed my lonely heart on days where it hurt more than usual. Music can really help you during a hard time, or many hard times, and breakups are no exception. To revisit some of the songs that helped you get through 2018, check out the following anthems. Because after a relationship comes to an end, the only thing to say is: thank u, next.