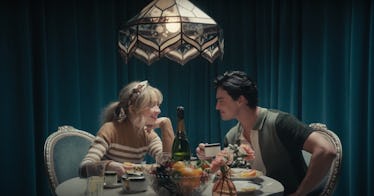 These Sabrina Carpenter "Skin" Video Moments Are So Much Fun To Recreate On IG
The music video for Sabrina Carpenter's single "Skin" is here, and it's major inspo for your Instagram feed. There are so many dreamy scenes, like when Carpenter sings under a spotlight, on the top of a car in the rain, and while in the arms of her SO, who resembles Joshua Bassett — aka Carpenter's rumored partner. When the video dropped on Feb. 1, you couldn't stop thinking about all the Sabrina Carpenter "Skin" music video moments to recreate on Instagram. Now, it's time to get creative and start snapping.
One of the first scenes you may want to recreate is when Carpenter pensively looks out her bedroom window while it's raining outside. It's a very dramatic look that's easy to stage and have someone snap for you. Or, you may prefer to capture your own version of the slow dance scene with your SO. Dress up and dance in your living room as Carpenter does with her "Skin" video co-star Gavin Leatherwood, who you likely know as Nicholas Scratch from Netflix's Chilling Adventures of Sabrina. Honestly, Carpenter's "Skin" music video has many Instagram ideas that will set you up for success on your feed. You can totally turn your bedroom, kitchen, or living room into the set of your new favorite music video.
To start out, choose the scene you'd like to recreate, like when Carpenter's chilling on the couch with Leatherwood. Then, put together an outfit that resembles Carpenter's, like a button-down blouse, jeans, and white sneakers. Next, grab your bae and any necessary props, such as a journal, leafy palm, or colorful set of pillows. The last step is to turn on your self-timer, and have fun diving into the the "Skin" music video moments below.