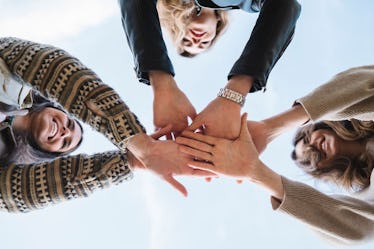 8 Resolutions For Staying In Touch With Your Home Friends When You're Back At School
It's almost time to head back to school. This summer flew by, and I'm just as shocked as you are. You've loved every beach day spent with your best friends, and the spontaneous road trips you've taken — but if we're being honest, you've also been counting down the days until you can move back to college. Of course, you're going to miss your besties back home, and wish you could pack them in your suitcase. You pinky promised to talk all the time, but that doesn't feel like enough. So, you may want to make some resolutions for staying in touch with your home friends that are super simple to stick with throughout the year.
In past semesters, you've tried to stay in touch as much as possible, but life always seems to get in the way. During the week, any free time outside of class is spent grabbing coffee or planning for the next day. Your nights will be spent studying in the library or going to dance team practice. Your schedule is jam-packed, but it's important to make time for the people who matter most to you. These eight resolutions will help you stay close to your hometown besties once you've gone back to college.