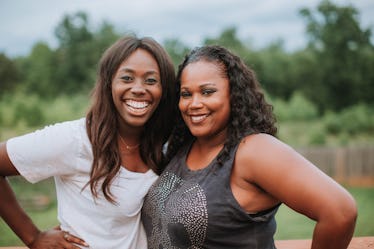 Moms Share 8 Pieces Of Advice About Having Your Heart Broken & BRB, Calling My Mom ASAP
If your heart was just crushed into a million pieces, you're probably craving three things: ice cream, stretch pants, and a hug from your mom (or another source of love and nurture). If you're looking for advice about having your heart broken, who better to ask than the wisest, hardest working people on this planet: Moms. Whether you've just been dumped or are months into grieving a relationship that ended sooner than you ever thought it would, a broken heart can feel unbearable. After falling in love, creating a long and fulfilling relationship with someone, and starting to share your life with someone, having your partnership end before your very eyes, well, sucks.
Yet, in love, in life, and in choosing practical footwear — moms usually know what's up. And their advice on breakups will warm the coldest pieces of your broken heart. So, turn down the vintage T-Swift and put aside the carton of rocky road, and get ready to have your world rocked by caregivers, nurturers, and above all else, mothers.
These eight pieces of advice from mothers about having your heart broken will help you get through your breakup, get yourself back out there, and make you want to call your own mom — just to say you love her.