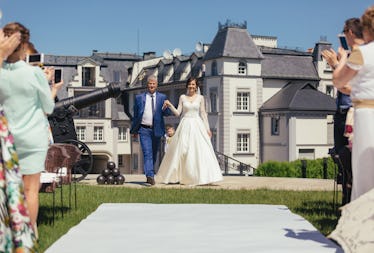 8 Photos Of Dads Walking Brides Down The Aisle That'll Make You Sob
Shutterstock
It's wedding season, and that can only mean one thing: time to pull out your party outfit. If you're attending weddings this summer or getting married yourself, get ready for a good time. Weddings are an absolute blast, and you'll be in for a real treat. One of my favorite parts of every wedding is when the father walks the bride down the aisle — it's so touching and beautiful, I usually cry. So, if you're anything like me, you're going to love these photos of dads walking brides down the aisle.
Remember: You can have whatever type of wedding you want. Not everyone has a father or father-figure, and not everyone wants to be walked down the aisle, and that's totally OK. No matter what, though, you deserve to have the wedding of your dreams, and if your dream is for your father to walk you all the way down the aisle, then that's completely your choice. I've had an amazing time at weddings of all varieties (my favorite featured the bride and groom singing to each other), and your guests are going to be delighted by whatever you pick out.
For those of you who love the aisle-walk, read on to find eight amazing pics of a dad walking the bride down the aisle!