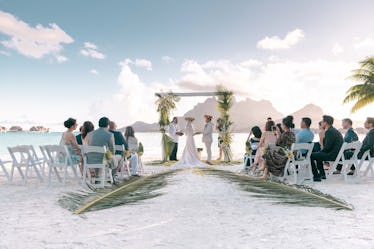 7 Wedding Planners Share Photos Of The Most Romantic Weddings They've Created
Carly Long LLG Events
When it comes to weddings, romance is already at the forefront of everyone's mind. And every couple has distinct expectations for their special day that they find romantic. To ring in the start of wedding season, I asked wedding planners to share the most romantic weddings they've been a part of. And even though I am single AF, looking at photos of romantic weddings definitely made me feel all warm and tingly inside.
"For me, the most romantic part of every wedding is that moment they see each other in the aisle for the first time," says Andi Jo Clark,, owner, and CEO of Simply Sparrow wedding planning. "It gets me emotional every single time. Over 150 people around them and it is like tunnel vision. I have been a part of weddings at churches, family homes, event venues, the coast of Jamaica, intimate & casual settings. This moment that the bride and groom see each other during that highly anticipated walk always is the peak of my day."
For wedding planners, weddings need to be a well-oiled machine of structure, timing, and as few fires to put out as possible. However, planners aren't entirely impervious to those really sweet moments. The following weddings are definitely examples of ceremonies that made even the most experienced planner tear up.
Even if you aren't feeling particularly lovey-dovey, the following stories about romantic ceremonies might just make you go, "Awe."