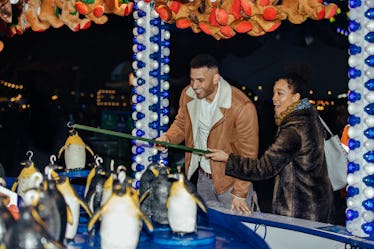 8 Overrated Date Night Ideas That Aren't Worth All The Stress
If you and your partner pride yourselves on always thinking outside of the box, you may already be a little weary of overrated date night ideas. Whether dinner and a movie just don't cut it or you'd rather wax your entire body than take a ride in a horse-drawn carriage, being in love can mean putting your own spin on how you spend time together. Of course, communication and transparency are key. And if you're not into an idea for date night or you'd rather be doing something else, it's always OK to (politely) say so. Your boo will probably be happy you did.
Maybe your partner likes to make a big show out of holidays, and you prefer to keep things low-key. Or perhaps you love to go hiking, but your partner's idea of being outside is sitting on the patio at their favorite bar. Planning a special date night doesn't have to mean dragging your boo somewhere they don't want to be or pretending you like a bunch of stuff that you don't actually like. It can look like being open and honest with each other about where your head is at.
Here are eight overrated date night ideas to skip when you'd rather be doing something else.