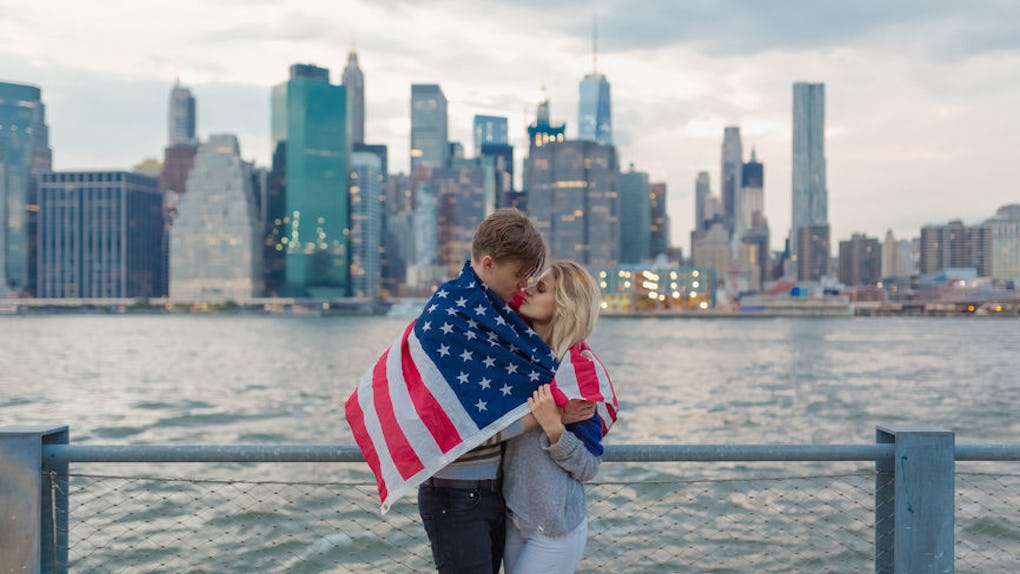 Stocksy/Hex.
8 Most Popular Neighborhoods On Tinder Across The Country That Get The Most Right Swipes
If you use Tinder, you probably know that your photos and bios have an impact on how many matches you get. But did you know that where you're swiping from also affects your experience? I'm not saying you should move to a new neighborhood based solely on this fact, but I'm also not not saying you should. Basically, if you've ever wanted to know what the most popular neighborhoods on Tinder are, you're now in luck. Tinder analyzed data from eight major U.S. cities in order to find out where its users were having the most success. Unsurprisingly, up-and-coming neighborhoods were at the top of the list. Because when attractive young people move in, they tend to attract other attractive young people. That's what the law of attraction is, right?
The methodology for this survey is pretty simple. "Neighborhood boundaries were pre-determined by geographic borders and the rate of right swipes received was calculated by dividing the number of right swipes received by the total number of overall swipes in each area throughout April 2018," according to Tinder.
If you're blessed enough to live in one of these eight neighborhoods, then keep on swiping. You don't want to leave all those potential matches floating around in the Tinder-sphere. Now, without further ado, I present to you the eight most popular U.S. neighborhoods on Tinder.
1. New York City: Downtown Manhattan
When it comes to the Big Apple, downtown Manhattan takes the title of most right swipes, followed by the runner-up, uptown Manhattan. In descending order, the next most popular New York 'hoods are Brooklyn, Staten Island, the Bronx, and Queens.
2. Boston: The South End
Not only is Boston's South End the winner in Beantown, but it is actually the most right-swiped neighborhood in the country. Allston/Brighton comes in second place for Boston, followed by Brookline, Back Bay, Somerville, Cambridge, Charlestown, and the Seaport.
3. Washington, D.C.: Adams Morgan
If you reside in the nation's capital, try swiping in Adams Morgan, Washington D.C.'s top Tinder performer. Or Columbia Heights, which comes in at number two. Third is Shaw, fourth is H Street, and Capitol Hill brings up the rear as the D.C. neighborhood with the fifth-most right swipes by Tinder users.
4. San Francisco: The Castro
The Castro, San Francisco may be the place where you meet your perfect match. You might know that the Castro was one of the first gay neighborhoods in the United States. Well, now it's also the most right-swiped neighborhood in San Fran. The rest of the list reads: Pacific Heights, The Marina, The Mission, Nob/Russian Hill, East Bay/Oakland, and Potrero Hill/Dogpatch, respectively.
5. Los Angeles: West Hollywood
In sunny Los Angeles, West Hollywood gets the first star on Tinder's walk of fame. It's the most right-swiped neighborhood in LA, followed by Silver Lake, then Beverly Hills. Los Feliz comes in at number four, then Venice, Koreatown, South LA, Santa Monica, Downtown LA, and Echo Park.
6. Atlanta: Virginia Highlands
Oh hi, Atlanta. Those of you living in Virginia Highlands (AKA VaHi), are probably feeling pretty peachy as residents of Atlanta's most right-swiped neighborhood. VaHi comes in as the first of eight Atlanta neighborhoods to make the list. The second-in-line is Old Fourth Ward, then comes Midtown, Buckhead, West Side, Brookhaven, Inman Park, and East Atlanta, respectively.
7. Chicago: Lincoln Park
Chi-Town Tinder users favor Lincoln Park above the Old Town, Wicker Park, River North, Wrigleyville, and Logan Square neighborhoods, which fall in that same order when it comes to the number of right swipes.
8. Denver: Washington Park
Last but not least is Denver, where the largely residential Washington Park blooms above the rest of Denver's neighborhood. The Highlands are also high up on the list at number two, and Cherry Creek is far from the pits at number three. I'll stop with the puns and simply list Boulder, Capitol Hill, LoDo (Lower Downtown) and RiNo (River North Art District) as the remaining notable Denver neighborhoods.
Did your 'hood make it on the heat map? If not, you know what you need to do. Keep on right swiping until it does.
Check out the entire Gen Why series and other videos on Facebook and the Bustle app across Apple TV, Roku, and Amazon Fire TV.
Check out the "Best of Elite Daily" stream in the Bustle App for more stories just like this!