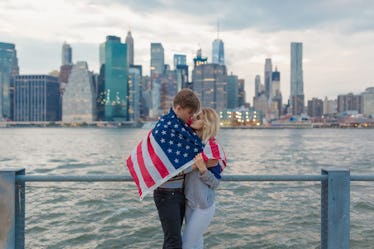 If You Live In One Of These Neighborhoods, You Get More Right Swipes On Tinder
If you use Tinder, you probably know that your photos and bios have an impact on how many matches you get. But did you know that where you're swiping from also affects your experience? I'm not saying you should move to a new neighborhood based solely on this fact, but I'm also not not saying you should. Basically, if you've ever wanted to know what the most popular neighborhoods on Tinder are, you're now in luck. Tinder analyzed data from eight major U.S. cities in order to find out where its users were having the most success. Unsurprisingly, up-and-coming neighborhoods were at the top of the list. Because when attractive young people move in, they tend to attract other attractive young people. That's what the law of attraction is, right?
The methodology for this survey is pretty simple. "Neighborhood boundaries were pre-determined by geographic borders and the rate of right swipes received was calculated by dividing the number of right swipes received by the total number of overall swipes in each area throughout April 2018," according to Tinder.
If you're blessed enough to live in one of these eight neighborhoods, then keep on swiping. You don't want to leave all those potential matches floating around in the Tinder-sphere. Now, without further ado, I present to you the eight most popular U.S. neighborhoods on Tinder.