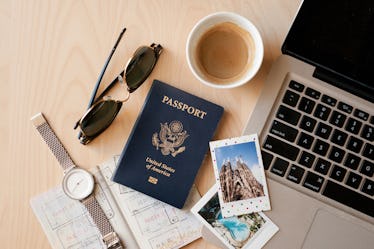 How To Change Your Location Settings On Tinder So You Can Meet More People
Heading home for Thanksgiving? It's time to change your location settings on Tinder. Because now that you're slightly older, hotter, and braver than you were back in high school, it's time to engage in the one Thanksgiving tradition even sweeter than pumpkin pie: seeing if sparks will finally fly between you and your high school crush.
Unless you tinker with your dating app settings regularly, you might not even realize that Tinder gives you multiple options when it comes to customizing your experience. You can select which genders you'd like to see and set a specific age range — but you can also set a maximum distance of up to 100 miles away and, if you pay for Tinder Plus, you can swipe from anywhere in the world. So it's certainly possible to switch things up. And honestly, if you have the option to custom-tailor your swiping experience, why wouldn't you?
No matter what you're looking for this Thanksgiving — someone to text you flirty banter from under the dinner table on Thursday night or someone cute and hungry to share turkey leftovers with on Friday morning — here's how to adjust your app's settings to make the most of your holiday.
If You Want To Change Your Maximum Distance
Tinder will only show you users within a certain maximum distance or radius — unless they happen to have Tinder Plus' Passport feature turned on.
If you're in a big, bustling city, you might limit your radius to just five or 10 miles. But if you're in a rural region, the liveliest thing within that distance might actually be a tumbleweed you mistook for a small, fluffy dog — and that means you need to widen your radius to 20 miles or more.
Not sure how many miles you should set as your maximum distance? Start off by putting it as far you're typically willing to travel to meet up with someone. If you run out of people to swipe through, or you're not thrilled with any of your matches, widen your radius until you're satisfied.
Here's how to adjust your settings:
Open Tinder. Tap the gray user icon in the top left corner.
Tap the gray "Settings" icon.
Adjust your maximum distance by sliding your finger left or right.
If You Want To Swipe From A Different Location
A membership to Tinder Plus gives you access to a whole range of perks — like the ability to re-do your last swipe if you messed up, match with an unlimited number of people, hide ads, get extra Super Likes, only be shown to people you've already liked, and more — including access to a feature called Passport.
It's extra useful if you travel often, even if the most exotic trip you've taken lately is the bus between your hometown and your college town.
According to Tinder's FAQ, here's how to access Tinder Plus:
To subscribe to Tinder Plus, just tap the icon on the top left-hand corner of the main screen, select 'Get Tinder Plus', and follow the instructions. Note: You can cancel your Tinder Plus subscription at anytime.
And here's how to switch up the location you're swiping in:
Tap the profile icon at the top of the main screen. Go to 'Settings' or 'App Settings.' Tap 'Swiping in' (on Android) or 'Location' (on iOS). Select 'Add a new location.' Type a location, select it from your search results, and when a pin appears, tap the blue banner to start swiping in this location.
Membership costs $9.99 if you're under 30 and $19.99 if you're over 30.
If you're planning to travel for Thanksgiving, for example, you could get Tinder Plus now, rack up matches in your destination city today, and wind up meeting your matches in person once you actually get there. Pretty cool, right?
Check out the entire Gen Why series and other videos on Facebook and the Bustle app across Apple TV, Roku, and Amazon Fire TV.
Check out the "Best of Elite Daily" stream in the Bustle App for more stories just like this!