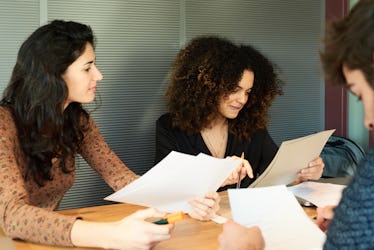 These 8 Healthy Habits Will Be So Much Easier To Follow With Your Work Wife Beside You
There's nothing that makes the work day better than having a work wife to share it with. Once the two of you realized you were meant for each other, everything about your 9 a.m. to 5 p.m. grind or late-night shifts suddenly made a lot more sense. Not only do you have someone to hash out WTF happened at that office happy hour last night, you also just kill it when it comes to collaborating. But you know what would really take your bond to the next level? Coming up with healthy habits for you and your work wife to make your time together that much more beneficial for both of your minds, bodies, and spirits.
Let's be real: Doing things as a duo makes even the most boring work stuff a whole lot better. Your work wife is already someone who always catches your sideways-glance across the room, and who just gets all your brilliant ideas right off the bat.
But now, the two of you can also keep each other accountable for these eight healthy habits, and that oh-so-necessary daily self-care. Everything from hydration to de-stressing habits can be a regular part of your routine together, and trust me, it'll only make that work-wife bond stronger.