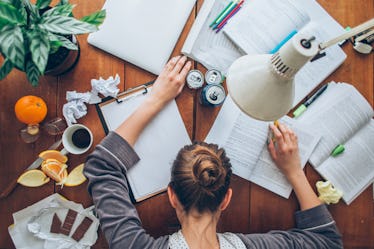 5 Foolproof Tips From A Dietitian For Beating The Afternoon Crash
The afternoon crash can ruin your entire day if it hits you hard enough. You know the feeling: You're having a perfectly productive day, checking things off your to-do list left and right, and then 2 p.m. rolls around. All of a sudden, your eyelids are lowering, your gaze is going blurry, and each of your limbs feels heavier than a cinderblock. Once that lethargy strikes, it's a daunting feeling to figure out how to beat the afternoon slump.
Trust me, you're not alone in this struggle. In fact, there are multiple reasons why you feel like you're about to start snoring around the same time every afternoon. For one, your circadian rhythm leads you to feel most tired around 3 a.m., and then again at about 3 p.m. In addition, your blood sugar levels are usually taking a hit as your body works to digest whatever you ate for lunch. This is especially true if you're eating a high-carbohydrate meal: Your insulin levels will spike, then your blood sugar levels will plummet, and this will leave you feeling like you're sleeping even if you're standing up.
But there are ways you can plan for a boost of energy right around the time your eyes start to glaze over. Overall, the best thing you can do is to work on smart eating and basic hydration.
From a berry-packed smoothie to cottage cheese and almonds, you're looking for snacks that have just the right combination of protein, calories, and overall deliciousness. Foods like this will fill you up without making you want to rest your head against the keyboard and doze off. After all, the moment you pass out onto your pile of sticky notes is probably going to be the one time your boss stops by your desk.
There are several ways to keep your energy up once you accept that that big bowl of cheesy, Alfredo pasta probably isn't the best choice for a work lunch. Here are a few things to consider the next time the afternoon slump strikes.