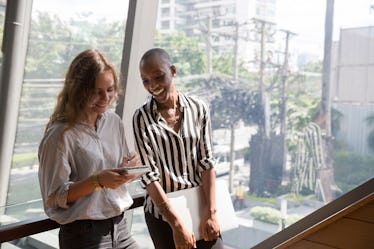 Your Work Wife Knows These 8 Things About You, Better Than You Know Yourself
Having a work wife is like having a little slice of heaven nestled in your workplace. Regardless of how this bond was formed, you know that the work day can never be that bad if you can spin around and see her smiling face. You guys are more than buddies at this point, and while you both follow the same work culture, she's caught onto your individual behaviors as well. You'd be surprised about the amount of things your work wife knows about you, and it's actually super sweet.
You can never have too many people who actually get you — and at work, it is such a relief. Your work wife understands you because she faces a lot of the same things you do. She has also taken it upon herself to get to know you because, duh, you're awesome.
Have you ever noticed how your work day flows so much better because she's around? Well, that's because she is seriously complementing your life in more ways than one. You're lucky if you have a work wife, and you might even think you know her pretty well, too. You already consider her one of the greatest people, but you'll want to hug her for all of the things she really knows about you just from working with you.