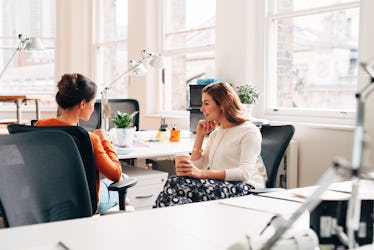 7 Things You'll Relate To If You Have A Work Wife You Couldn't Survive Without
Mondays are literally the worst. No offense, Monday — it's not your fault you are the day right after the weekend — but when you stroll up, we all collectively groan in frustration. Monday means it's back to our nine to five, and the struggle is so real. Lucky are those who have a work wife who helps to get through it all. She is your bestie in the office who you chill with all week long, until you reach that blessing in disguise — Friday! Actually, having a work wife you can't live without means you have seriously hit the jackpot. Not everyone is blessed with a friend who helps make the week cruise by, so you definitely need to thank your lucky stars for having her there.
Mondays aren't just Mondays anymore. Don't get me wrong, they still are the worst, but you get a little excited knowing that you'll be able to see your friend once again. She is your lunch buddy, your coffee date, and number one when you need to vent about the characters in your office. Those of us with a work wife can relate to these seven things that make our bond so special, and you're begging her to never leave you.