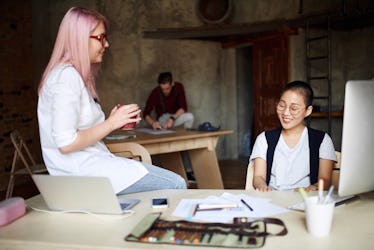 8 Monday Morning Struggles That Only You & Your Work Wife Will Understand
Mondays stink. There are few people in the world who enjoy the dreaded day, especially Monday mornings. You've just come off of the weekend and whether you were in bed all snuggled up for two straight days or out enjoying the nightlife scene with your girls, the morning on the first day of the work week will leave you feeling particularly drained and probably cranky AF. Luckily, you have your trusted work companion to help you out. Your best friend in the office — aka, your work wife — is so here with you on what you're both going through. There are just so many Monday morning struggles for you and your work wife to bond over.
From day one, a new job can be just as intimidating as it is exciting. You want to do your best, and you really just want to see a smiling, reassuring face to let you quietly know it'll all go smoothly. That's where your work wifey comes in. Maybe you two bonded over coffee preferences, workloads, or maybe the same favorite TV show. Whatever it was, you're now super tight and don't know what work would be like without the other one in your life. This friendship is especially helpful when you're struggling at 9 a.m. on a Monday.