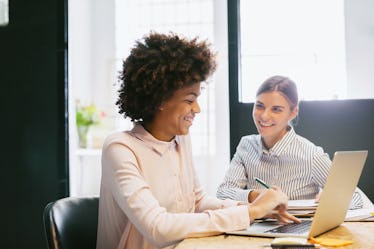 7 Reasons Why Your Work Wife Will Totally Save You During Your First Job
As much as it's an extremely exciting time in your life, your first job can be a pretty nerve-racking experience. Yeah, you nailed the interview like the girl boss you are, but everything about this work culture is totally new to you. But then, there she is, the woman who is going to make all of those nerves subside — your work wife. The benefits of having a work wife, especially at your first job, are so, so precious and will be cherished for a lifetime.
She's like your go-to for anything, and you become office besties quicker than you could even imagine. In my opinion, work wives don't get enough credit for the awesomeness that they provide on the regular. It's almost like you two were meant to work in the same place just so you could meet and form an epic bond.
As an adult, sometimes you need an incentive to partake in adulting. Your work wife is that extra little push to get you out the door and off to work. Yeah, her gravitational pull is that strong, and you are so grateful for it. Whether you're sipping coffee in the break room or slyly sharing hilarious memes, she makes your workplace world go around. Having a work wife in general is super rewarding, but having her during your first job is one of the most supportive things ever.