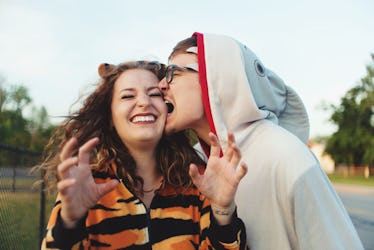 8 Halloween Engagement Stories That'll Delight Your Spooky Little Heart
It's no secret that the holidays present an opportune time for popping the question. For some, the twinkling lights around Christmas, the inherent romance of Valentine's Day, or the glitz and glamour of New Year's Eve lend an ideal aesthetic for this momentous event. But for other couples, it's the creepy vibes on Oct. 31 that spell everlasting love. And without a doubt, Halloween engagement stories are among the most memorable you'll ever come across.
According to a WeddingWire study, Halloween doesn't even crack the top 10 most popular dates to get engaged. And the truth is, that might actually be an advantage. Since Instagram feeds won't be cluttered with sappy "they said yes" posts (as they tend to be between late November and mid-February), your announcement is bound to stand out more. Not only that, but Halloween takes on a whole new romantic meaning when it becomes the anniversary of your proposal. And let's not forget the epic engagement pics you'll get in costume.
But of course, not all Halloween engagements are created equal — some people really go above and beyond to give their proposal that extra pinch of magic. Here are a few standout tales that are just as sweet as they are spooky.