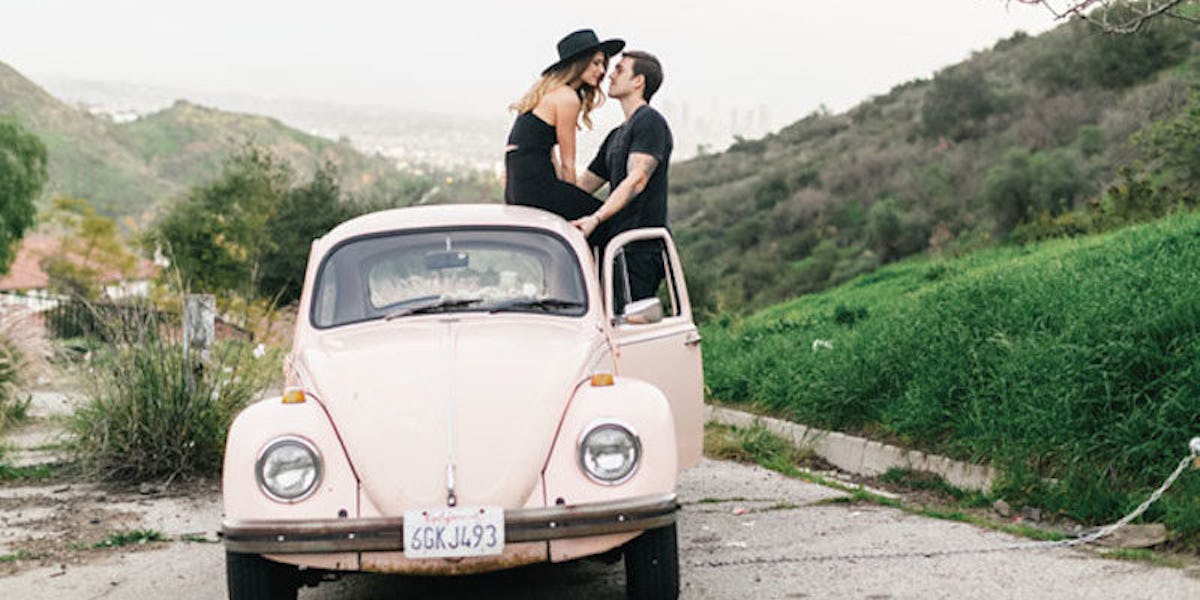 8 Incredible Outdoor Engagement Photos That Go Above And Beyond
When it comes to taking your engagement pictures from ehhh to ahhh-mazing, we have just three words of advice for you: location, location, location.
Leave the cutesy props at home and find the most awe-inspiring location you can. Done and done. Your engagement photos automatically won't be boring.
You can smile on a steep cliff side or hike your way deep into a fairytale forest like a few of these eight couples did for their engagement sessions featured on Green Wedding Shoes.
Then sit back, relax and let the compliments (or, rather, the likes and heart-eye emojis) roll in. It's what we like to call #EngagementPhotoGoals.
These fashion industry experts jaunted to the desert with Amanda VanVels to capture all the good vibes and positivity Salvation Mountain (an art experiment turned tribute to God) has to offer.
Here's a way to score instant points for your engagement photos: surprise your mother by wearing her wedding dress, find a mystical forest, hike waaay in and hope for fog. Also, make sure to snag a killer photographer, like Kristen Booth, who's down for the cause.
These two adorable adventurers hopped on a flight from Alabama to Colorado for their engagement session in the Rocky Mountains with W&E Photographie.
This sunny, dream-like engagement session was captured by Caroline Tran in a rolling field near Los Angeles.
Photographer Ryan Flynn captured a snippet of what looked like all four seasons at the top of the Washington mountains for this couple's special shoot.
It's OK to be jealous of this ultra-cool pair. They were made for this stylish session in the Hollywood Hills, featuring a vintage VW Bug and sultry shots by Jana Williams.
Want to pull out all the stops for your e-photos? Make like these two by finding an abandoned castle, climbing to the top and posing for the camera so Katie Shuler can get the shot.
If you aren't afraid of heights (or a little wind), hike up to the top of Columbia River Gorge (it's a 5-mile hike covering 1,500 feet of elevation) with Christy Cassano-Meyer to get a photo like this!
Inspired now to choose an epic location for your engagement photos? We thought so! Help pave the way for a new revolution of cool engagement photos (that aren't cheesy or boring) by choosing a killer backdrop and letting it do (most of) the talking.