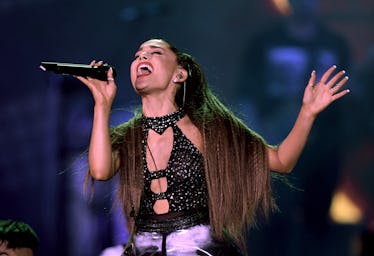 8 "God Is A Woman" Instagram Captions For When You're Feeling Yourself
Kevin Winter/Getty Images Entertainment/Getty Images
If you're like me, then you've listened to Ariana Grande's newest album, Sweetener on repeat. After making its debut on Aug. 17, Grande blew everyone away with her fourth album, giving us a handful of tracks that were addicting to listen to. And leave it to our girl Ari to deliver a whopping 15 songs with lyrics that literally speak to your damn soul. One song, in particular, that has an endless amount of quote-worthy lyrics? I'm going to have to go with "God Is A Woman," because almost every line is actual music to my ears, and you have to be out of your mind bonkers not to agree. So let me gift you with these "God Is A Woman" Instagram captions so that you can #bless all your followers' feeds with some effortlessly cool Insta-posts.
While you can debate for hours what the lyrics of "God Is A Woman" are really about, it should be noted that Ariana herself explained that her song is about "sexual female empowerment" after a fan on Twitter asked if the song was about feminism. On June 25, Ariana responded, writing, "sexual female empowerment & how women are literally everything & the universe is inside of us tbh," and this is a real mood if I've ever seen one:
But hey, many fans also agree that "God Is A Woman" is about Pete Davidson, and they might not be wrong. Grande never officially confirmed that fact, but c'mon, we can put two and two together, you know?
Regardless of who (or what) the song is about, the lyrics are brimming with possibilities for your social media accounts, because Ariana Grande is nothing if not a wordsmith.
So, without further adieu, here are all the incredible lyrics from "God Is A Woman" that make the perfect caption for all of your Instagrammable life moments.
Keep in mind though, that these are some pretty ~saucy~ lyrics, so be sure to use them accordingly. Don't say I didn't warn you!
1. "And I feel it after midnight, a feelin' that you can't fight, my one, it lingers when we're done, you'll believe God is a woman"
2. "I don't wanna waste no time, yeah, you ain't got a one-track mind"
3. "Ain't nobody else can relate boy, I like that you ain't afraid, baby, lay me down and let's pray I'm tellin' you the way I like it, how I want it"
Are you sweating yet? Because I'm feeling pretty warm right now.
4. "And I can be all the things you told me not to be"
5. "I tell you all the things you should know, so baby, take my hands, save your soul"
6. "But you're different from the rest and boy, if you confess, you might get blessed, see if you deserve what comes next"
7. "When you try to come for me, I keep on flourishing, and he see the universe when I'm in company, it's all in me"
8. "When all is said and done, you'll believe God is a woman"
A big thanks to Ariana Grande for giving us this very useful content. We salute you, and we are so very, very grateful for each and every line from "God Is A Woman." Bless up.