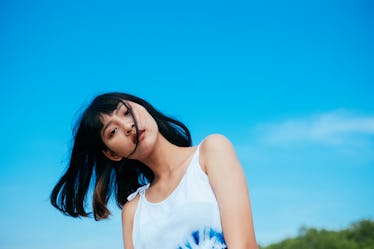 These DIY Tie-Dye TikTok Videos Will Make Your Afternoon Colorful AF
Shutterstock
When you open up your closet, there's a serious lack of tie-dye. You may have a few shirts leftover from your summer camp days, and times when you participated in intramural sports in college. But, compared to stores and brands that you love and are promoting their colorful collections all over social media, your closet may be looking pretty bleak. It could use a super trendy upgrade, courtesy of DIY tie-dye TikTok videos.
Your afternoon is about to take a rainbow-esque turn from the moment you hit "play" on these tutorials. They'll help you through the various steps you need to take in order to create a swirl on your blank crewneck or an old shirt you want to eventually tuck into an embroidered pair of high-waisted jeans. The only thing you'll have to be in charge of is what color dye you want to use, and where you'll tie-dye your clothes — whether it be in your backyard or a driveway.
By the time you're done and if you followed all of the steps correctly, the hangers in your closet will have been totally refreshed. You'll have a few new pieces to wear when you're hanging at home, or taking selfies in a mirror for Instagram. Sweet! That's the goal, right? These eight DIY tie-dye TikTok videos will help get you there.