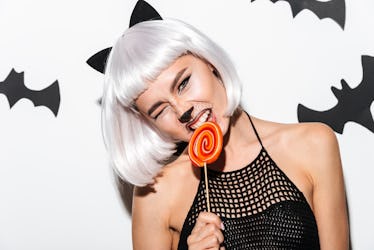 8 DIY Food Halloween Costumes For Those Who Prefer The Treat To The Trick
One of the many reasons why I love Halloween so much is that the holiday is one of the few that are actually all-inclusive. From classic get-ups like witches and vampires to spot-on imitations of pop culture icons, there's a costume for everyone if you think outside the box. Normally, pre-made costumes are marketed toward what's trending, which is awesome if you're into movies killing it at the box office, but pulling together your own All Hallows' Eve attire gives you a little more wiggle room to express your individuality. Personally, I go for creepy ensembles myself, but if you'd consider yourself more hangry than haunted, I suggest considering DIY food Halloween costumes that really show off your unique taste.
If we're being frank here, foodies have taken over social media this year. To be honest, I'm more interested in health bloggers' plated creations and what superfood I should be adding to my smoothie than I am about Kylie Jenner's reported pregnancy rumors, or why Taylor Swift took an Instagram hiatus (for attention, obviously).
Food is fuel, but it's also entertainment, and something millennials are hyper aware of. If you categorize yourself as a designated "foodie," these DIY Halloween costumes might spark some inspiration, or should I say, foodspiration?