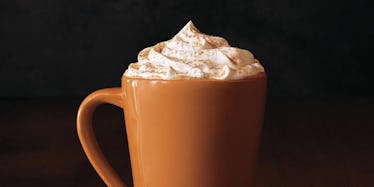 Starbucks' Pumpkin Spice Latte Won't Be Available Forever And We're Sobbing
Starbucks
Fall is in the air, which means that the Starbucks Pumpkin Spice Latte is officially back in action. The PSL came back to stores on Tuesday, Sept. 5. Now that the long-awaited PSL is finally here, it's time to enjoy the heck out of it because it won't be here for long. But while this is a fall drink moment to celebrate, we must remember that all joy eventually comes to an end. So if you're wondering how long Starbucks' Pumpkin Spice Latte will be available, we're right there with you.
Elite Daily reached out to Starbucks to see how long the delicious drink treat will be available, and they told us the Pumpkin Spice Latte will be around "while supplies last." What we can do for a better idea of when that will be is look at the trends of previous years to try and figure out just how long the PSL will be around in 2017.
The sought-after fall-time beverage first was introduced in 2003, and since then, Starbucks lovers can't wait until September rolls around each year to enjoy their pumpkin-flavored latte. In 2015, the PSL dropped on Sept. 8 in Canada and the U.S., and in 2016, the #basic beverage dropped on Sept. 6. So both years, like this one, the Pumpkin Spice Latte came right after Labor Day.
The drink typically lasts in stores for just a few short months, or right up until around the holidays in December -- I mean, it's called a seasonal fall drink for a reason, my friends. It also depends, like Starbucks said, on how long the supplies last, so it could vary store to store. Either way, make sure to visit Starbucks as often as you can while the Pumpkin Spice Latte is being sold because it'll be over before you know it.
There are several possible reasons for the drink to only be available on a limited basis. First of all, it's a good marketing idea, as described by a contributor to Forbes in 2013. By only having it available for a certain time, it becomes a magical product -- and a seasonal habit. Sure, but how nice would it be to sip an iced PSL in April? For now, we can only dream.