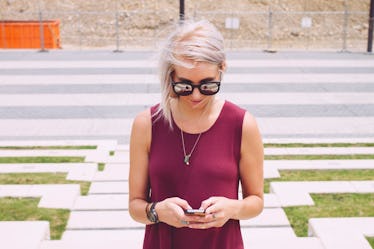 Send These Clever Texts After A First Date, So They Know You Can't Wait For Round Two
Imagine this: You just got home from one of the best first dates of your life. You actually had such a great time and you already can't wait to tell all your friends about it and obsess over everything the other person said. But first, you have to figure out what you want to text them. Or should you text them at all? Today's dating world is complicated, it's modern, and it's just full of tasteful nudes. But, if you actually enjoyed spending time with someone, then these clever texts to send after a first date may help you navigate this sticky situation, while simultaneously letting the other person know you're interested.
If you're anything like me, then you probably just assume that the hardest part of a first date is the actual date itself. But sometimes, despite the difficulty, you find yourself really hitting it off. If this the case, try to send them a clear signal that you'd love to see them again.
Everyone struggles with sending that first text — so know that you're not alone. Here are eight clever message ideas, that are sure to land you a second date.