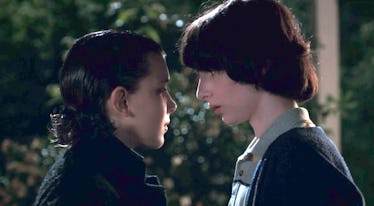 'Stranger Things' Season 3 Will Be A "Summer Of Love" For Mike & Eleven
Netflix
A lot about the upcoming season of Stranger Things is still a mystery for fans, but Finn Wolfhard just spilled one pretty major detail: romance is coming to Hawkins. Wolfhard revealed to Us Weekly that Stranger Things Season 3 will be a "summer of love" for the show's characters, teasing a shift from battling inter-dimensional monsters to focusing on budding romantic relationships.
Finn Wolfhard revealed that love will be in the air in Hawkins when we return to the Indiana town in Season 3. Although the Stranger Things star could not reveal too much about the upcoming season, he did spill that the new season, which is set in the summer of 1985, can be described as "the summer of love."
I don't know much about it because we get the scripts as we go along. But yeah, it's set in 1985, in the summer. It's the summer of love — that's all I can say, really.
Hmm, interesting. It sounds like we will be seeing Mike Wheeler and Eleven as boyfriend and girlfriend in the new season rather than just will-they-won't-they love interests. This would makes sense after how Season 2 of Stranger Things ended: in the most recent finale, Mike and Eleven shared their first kiss with one another at the school dance.
The "summer of love" hint could very easily extend beyond just Mike and Eleven, as well. The Season 2 finale also teased two other couples: Lucas and Max shared their first kiss at the school dance after flirting throughout the season, and outside of the school dance, Joyce Byers and Sheriff Hopper shared a romantic moment, now that they are both single. So don't be surprised if we return to Hawkins to find Mike and Eleven, Lucas and Max, and possibly even Joyce and Hopper all caught up in the romantic summer of love.
Another possible new romance involves Steve Harrington and the newly added character of Robin, played by Maya Hawke. A teaser for Season 3 released a few weeks ago revealed that Steve and Robin will be coworkers at an ice cream parlor in the mall in the new season. Although her character description only reveals that Robin is an alternative girl who is bored with her job and stumbles on one of Hawkins' secrets, it seems possible that she may also be a love interest for Steve in the new season.
Robin is not the only new character who will be showing up in Hawkins in Season 3 of Stranger Things. Cary Elwes is joining the cast as Mayor Larry Kline, described as the slick and sleazy mayor of Hawkins, and presumably one of the antagonists of the new season. Another probable bad guy being introduces is Jake Busey as Bruce, a reporter for the Hawkins post with questionable morals and a sick sense of humor.
Unfortunately, fans will have to wait quite a while before we get to see Season 3 for ourselves. The third season of Stranger Things will premiere on Netflix sometime in the summer of 2019.