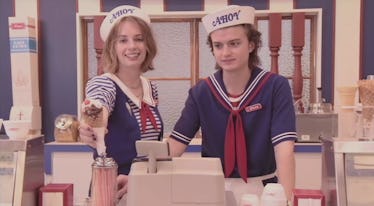 New 'Stranger Things' Season 3 Teaser Trailer Shows Steve Like We've Never Seen Him Before
Netflix
Now that Steve Harrington has a bunch of kids to look after, he is going to need a job. And that is the focus of the first teaser trailer that Netflix has released for Season 3 of Stranger Things. The new Stranger Things Season 3 teaser trailer gives fans our very first look at the upcoming season, and it does it in a way that feels incredibly different from the sci-fi series fans have grown accustomed to.
The new Stranger Things trailer takes the form of a retro commercial for the Starcourt Mall in Hawkins, Indiana, which definitely makes it seem like this mall will be a major location in Season 3. Only one of the main characters from the show appears in the trailer: Steve Harrington. After a chipper-voiced narrator introduces viewers to a bunch of '80s stores in the new mall, we see Steve Harrington behind the counter at Scoops Ahoy ice cream shop.
Steve is dressed up in the sailor-themed uniform along with his coworker Robin, a new character in Season 3 played by Maya Hawke. Robin is described as an alternative girl who stumbles on a dark secret in Hawkins after growing bored of her mundane job. Clearly, Robin's mundane job is at Scoops Ahoy, and it looks like Steve will be along for the ride when Robin discovers the dark secret. Check out the new teaser trailer below:
Aside from introducing Robin and cluing us in on Steve's new job, the trailer also sets up Starcourt Mall as a major location in Season 3 of Stranger Things. The teaser makes it sound like Starcourt Mall is a new institution recently built in Hawkins, possibly as some sot of cover-up? I mean, we have to be suspicious of everything in this show. Could a new gate to the Upside-Down open up somewhere within the mall, or maybe Hawkins Lab has set up an underground operation stationed in the mall now that their actual laboratory has been shut down. Whatever is going on at the mall, there is bound to be some sort of sketchy underbelly.
The mall setting also points fans towards which '80s movies Season 3 of Stranger Things might riff on. The series is known for including a boatload of references to '80s pop culture, and adding in a shopping mall opens the door for a number of iconic '80s films, most notably teen comedies Fast Times at Ridgemont High and Bill and Ted's Excellent Adventure. But in keeping with Stranger Things' genre, we may be more likely to expect an homage to the mall-set sci-fi horror movies of the period, like the zombie-filled mall from Dawn of the Dead or the killer robot-infested mall from Chopping Mall.
Along with all this exciting news about the new season, the Stranger Things teaser trailer does end with a bit of a downer. The clip reveals that Starcourt Mall (and presumably Season 3 of Stranger Things by extension) is coming next summer, meaning that fans will have to wait a bit longer than they expected for the new season. Now, it looks like Season 3 of Stranger Things will premiere sometime in the summer of 2019.