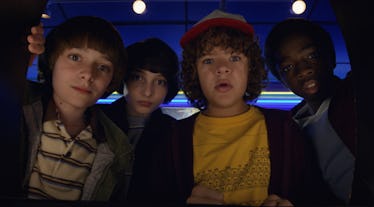 These '80s Actors Are Joining 'Stranger Things' Season 3 & You'll Recognize Them Right Away
Netflix
Stranger Things fans, it's time to welcome a handful of fresh faces to the upcoming third season of the Netflix hit. Spoilers ahead if you have not watched all of Stranger Things, by the way. While Season 2 introduced the world to new Hawkins residents like RadioShack manager Bob Newby (RIP, buddy) and denim-clad bully Billy Hargrove, the next part will feature more characters we'll either love or be completely suspicious of. Netflix revealed Wednesday, April 18 that the Stranger Things Season 3 cast will include a particular '80s star you might recognize from one of the most iconic comedies from the decade. Cary Elwes, aka Westley of The Princess Bride fame, will be joining the show, as will Jake Busey.
In case you didn't put it together, Jake Busey is the son of actor Gary Busey. The actor has appeared in dozens of TV and film projects throughout his career, from Starship Troopers to Ray Donovan.
Cary Elwes is probably most known for his starring role in 1988's The Princess Bride (it's hard to think of him without the words "as you wish" coming to mind), and he's been a steady Hollywood force for over 30 years. Elwes had memorable parts in blockbusters like Twister and Liar Liar, and took on the title role in 1993's farcical fave, Mel Brooks' Robin Hood: Men In Tights. Elwes most recently appeared in CBS' Life in Pieces and has lent his voice to Family Guy. So, how will he fit into the supernatural happenings of 1985 Indiana?
Cary Elwes will reportedly be taking on the role of the "handsome, slick, and sleazy" Mayor Larry Kline Kline. That description doesn't sound promising for his likability odds, but this is Stranger Things — you never know what could happen. The character is apparently going to be "your classic '80s politician — more concerned with his own image than with the people of the small town he governs."
Jake Busey is slated to portray Bruce, a Hawkins Post reporter with "questionable morals and a sick sense of humor."
Stranger Things' inclusion of Elwes fits in with their tradition of bringing unforgettable '80s stars to its freaky universe. Goonies' Sean Astin and Aliens' Paul Reiser both got a taste of the Upside Down in Season 2, and the show is already headlined by the ultimate 1980s "it girl," Winona Ryder. Maybe Season 4 will bless us with a Michael J. Fox cameo? Elisabeth Shue? Steve Guttenberg?
Elwes and Busey are just the most recent additions to the growing roster of Stranger Things cast members. Maya Hawke will play Robin in Season 3, "an alternative girl who is equal parts sharp and playful. Bored with her mundane day job, she just wants a little excitement in her life... and gets more than she bargained for when she uncovers a dark secret in Hawkins." TV Guide reported last month that a love interest for heartbroken Steve Harrington is "definitely possible," so perhaps she'll be the one to sweep him off his Nikes.
Season 3 of Stranger Things is set to start shooting this spring and its next 8-episode installment will time jump ahead to one year after the events of Season 2, to the summer of 1985. Even though plot details have been rolling in since October, there's still no word on when the third chapter will make its way to Netflix.
Executive producer Shawn Levy has clarified that the series' Season 3 release date won't necessarily coincide with its seasonal setting, like it did with Season 2's Halloween weekend debut. "We are shooting starting in April. We don't want to rush [postproduction] because, once again, there's a lot of visual effects, and so, no, we aren't necessarily going to hold on so that we launch at the same time that we're set. You also wouldn't be happy if we rushed it. As soon as we lock down a release date, which we expect to be soon, we will let everyone know," he explained. Hopefully Levy stands by that statement, because Summer 2019 feels like a lifetime away.