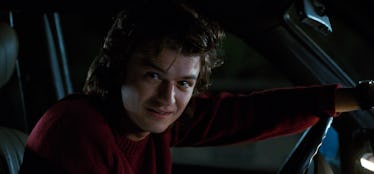 New 'Stranger Things' Season 3 Characters Are Coming & Steve May Get A Love Interest
Netflix
Things might be looking up in the romance department for everyone's favorite effortlessly charming and perfectly-coifed Hawkins, Indiana teenager. The heartbreaker became the heartbroken in Season 2 when Nancy Wheeler broke things off with popular high school boyfriend Steve Harrington (Joe Keery), but all hope isn't lost for the unlikely hero and Dustin confidant. New Stranger Things characters in Season 3 could include a love interest for Steve, so perhaps viewers can rest assured that the fan-fave has something to look forward to. Is everything coming up Steve next season?!
TV Guide reports that a romantic relationship "definitely possible" for Steve "four puffs of Farrah Fawcett spray" Harrington in the future, according to executive producer Shawn Levy. The next chapter of Netflix's sci-fi hit is set to introduce a whole host of new characters to the mix. One of the most endearing elements of Season 2 was Steve's newfound friendship with Dustin and the tweens of the show, but I certainly wouldn't mind seeing Steve connect with a potential partner who could be a love interest. Levy recently revealed that Steve will get some serious screen time in the upcoming installment. He teased at March's PaleyFest panel:
We'll definitely get to see some more of Steve Harrington in Season 3, and I'll just say we won't be abandoning the Dad Steve magic. I don't want to say much more, but I literally feel that we were walking along and we stumbled onto a gold mine with Dad Steve.
In addition to Dad Steve's triumphant return, Netflix recently announced that a character named Robin (played by Maya Hawke) will be introduced in Season 3. Robin has been described as an "alternative girl who is equal parts sharp and playful. Bored with her mundane day job, she just wants a little excitement in her life... and gets more than she bargained for when she uncovers a dark secret in Hawkins." Could she be Steve's new lady love?
But Robin isn't the only unfamiliar face about to turn the established Stranger Things universe upside down. Sorry, I had to.
The Hashtag Show reports that three other characters are slated to be joining the ensemble:
'Mayor Larry Kline.' Described as a classic, '80s style slick politician, 'Kline' is described as pathetic and driven only by his own interests. The studio is looking for a male, 40s-60s, to fill the role.
'Bruce.' A morally compromised news reporter in his 50s, 'Bruce' was described as outwardly sexist, overweight, and bedraggled.
'Patricia Brown.' 'Patricia' seems to be filing the role of the sweet, neighborhood elder. The studio is looking for a woman in her 70s for the role which will see her spending a lot of time tending to her garden and offering her advice to the neighborhood kids.
As for actor Joe Keery's hopes for his character, what he really wants it to get more screen time with David Harbour AKA the equally enjoyable Chief Hopper. "Steve thinks he has it all figured out," Joe told MTV News. "But he's definitely not the fastest guy. In a pinch, he can work himself out of some situations. With Hopper, they could lend to each other in that way. It could be like a buddy-cop movie or something." Hmm. Steve could always trade hair secrets for life lessons.
Season 3 of Stranger Things is set to time jump to the summer of '85, so I'm looking forward to seeing what that means for Steve and company. Maybe he and his potential date will go see Back to the Future or The Goonies. If there's time in between dealing with evil forces from an alternate dimension, that is.