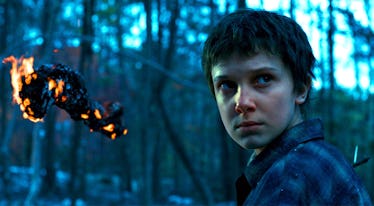 'Stranger Things' Season 3 Details Are Here & 'Back To The Future' Fans Will Be Pumped
Netflix
Although we still have a year to wait for more Stranger Things, the cast and crew are filling us in for the first time about what fans can expect from the upcoming third season. During a PaleyFest panel on Sunday, executive producer Shawn Levy spilled the first details about Stranger Things Season 3, including when the new season will pick up, which '80s classic will be the main inspiration, and how the fan-favorite character of Steve will continue to develop.
After the potentially Upside Down-closing events of the Season 2 finale, Season 3 of Stranger Things will pick up a year later, in the summer of 1985, Shawn Levy confirmed. At the end of Season 2, we saw Eleven use her powers to close up the gate to the monster-filled Upside Down (although it looked like the tentacled Mind Flayer might be planning another attack), and the children's romantic lives sparked at the school dance when Eleven and Mike kissed and Lucas danced with the new girl Max. According to Levy, these relationships will continue to play a role in the new season:
Mike and Eleven and are going strong, so that's a relationship that continues, and same with Mad Max and Lucas. But again, they're like 13 or 14-year-old kids, so what does romance mean at that stage of life? It can never be simple and stable relationships and there's fun to that instability.
Along with focusing on the budding romance between the main characters, Season 3 of Stranger Things is also drawing inspiration from a pretty unexpected source: the '80s sci-fi classic Back to the Future. Of course, Stranger Things has drawn from a ton of '80s movies in the past two seasons — standouts include The Goonies, E.T., and Stand By Me — but although the Netflix series deals heavily in science fiction, it has never explored time travel, the sci-fi trope at the center of Back to the Future. It's unclear just how influential the Michael J. Fox classic will be on Season 3 of Stranger Things, but its mention certainly does raise the possibility that we may be seeing some time traveling in the new season.
The last new detail about Season 3 that Shawn Levy dropped for fans concerns Steve Harrington, the former popular bully who gained fan-favorite status in Season 2 by becoming a more kind-hearted mentor and protector for the children. Levy referred to this newly caring version of Steve as "Dad Steve," and teased that the paternal element to his character will continue to play a major part in the new season:
We'll definitely get to see some more of Steve Harrington in Season 3, and I'll just say we won't be abandoning the Dad Steve magic. I don't want to say much more, but I literally feel that we were walking along and we stumbled onto a gold mine with Dad Steve.
These new tidbits follow an announcement last month, that Stranger Things will be adding three new characters to Season 3: the slick and selfish mayor of Hawkins, a sexist and morally corrupt news reporter, and an older woman who tends to her garden while offering advice to neighborhood children. Shawn Levy confirmed that the team is set to begin production on the new season later this month, although fans are probably going to have to wait quite some time before Season 3 of Stranger Things drops on Netflix — the new run of episodes is not expected to premiere until sometime in 2019. Well, I guess that gives us all plenty of time to re-watch Back to the Future in preparation.