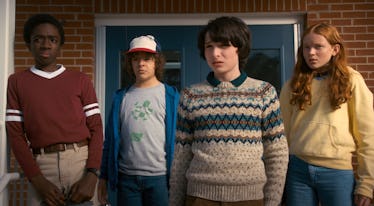 'Stranger Things' Is Adding 3 New Characters For Season 3 & They Sound So Creepy
Netflix
We may still be pretty fresh off of the last season of Stranger Things, but Season 3 is well on it way. In fact, we are finally getting our first details on what will be going down in Hawkins when the supernatural series returns, including three new faces that will add to the town's mystery. Character bios for three new characters central to Stranger Things Season 3 have just been released, via That Hashtag Show, and these newcomers certainly sound like they are going to shake things up in Hawkins.
It sounds like the Stranger Things team is about to begin filming their third season, and are currently looking to fill a few new roles being added to the show. The new character descriptions from the studio seem to suggest that Season 3 will include more of a political bent than the show has explored before, and bring the kids up against the local government and press in some way. Check out the three new character descriptions below:
'Mayor Larry Kline.' Described as a classic, '80s style slick politician, 'Kline' is described as pathetic and driven only by his own interests. The studio is looking for a male, 40s-60s, to fill the role.
'Bruce.' A morally compromised news reporter in his 50s, 'Bruce' was described as outwardly sexist, overweight, and bedraggled.
'Patricia Brown.' 'Patricia' seems to be filing the role of the sweet, neighborhood elder. The studio is looking for a woman in her 70s for the role which will see her spending a lot of time tending to her garden and offering her advice to the neighborhood kids.
The addition of Hawkins' mayor definitely seems to be the most eye-catching of these three new characters. Since Mayor Larry Kline is not described in the best terms, it sounds like he could be a major antagonist for the Stranger Things kids. Since he would be in charge of the police force, Larry Kline might be heavily involved in a storyline with Jim Hopper, maybe even threatening Hopper's job as police chief.
The other potential villain among the new characters is Bruce, a news reporter described as morally compromised and sexist. As fans recall, Stranger Things introduced another journalist in Season 2 — the conspiracy theorist Murray Bauman, who helped Jonathan and Nancy expose Hawkins Lab and get the supernatural facility shut down. It's possible that Bruce could be involved in that story, as a rival journalist to Bauman who is attempting to reopen the doors at Hawkins Lab for some shady reason.
And finally, the character I am most at a loss about is Patricia Brown. The studio only describes her as an older woman who tends to her garden and offers advice to the kids. That's not much to go off of, so I guess we will just have to wait to see how Patricia fits into the new season.
These three new characters will join the other relatively new characters that Season 2 of Stranger Things introduced, such as the gang's new friend Max, her violent older brother Billy, and Eleven's newly discovered psychic sister Kali. At the end of Season 2, Eleven managed to close the gate between Hawkins and the Upside Down, but the final shot showed a large tentacled monster possibly preparing a new plan of action. Season 3 will likely also continue Eleven's search to find the truth about her upbringing, which was never wrapped up last season.
Stranger Things Season 3 will consist of eight episodes, and it is expected to drop on Netflix sometime at the beginning of 2019. The Duffer Brothers have teased that this will be close to their final season, with the show probably wrapping after Season 4 or 5.