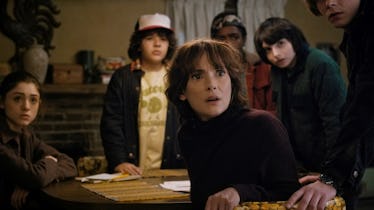 We Finally Have New Details About 'Stranger Things' Season 3 & We're Pumped
Netflix
We are still pretty fresh off the insanity of Stranger Things Season 2, but the team behind the supernatural hit already has Season 3 all planned out. Executive producer Shawn Levy spilled the first details about the upcoming season of Stranger Things to Glamour earlier this week, including how many episodes Stranger Things Season 3 will have, which characters will be getting central roles, and what kind of Upside Down monster will be terrorizing Hawkins this time.
Shawn Levy shared that the overall storyline for Season 3 has already been worked out, and now they are just finishing up the scripts. In terms of episode count, the new season will continue the show's trend of keeping its seasons really short. Stranger Things Season 1 was eight episodes long, and the second season slightly upped that to nine episodes — Levy confirmed that the third season will the same length as the first two, adding that they never try to hit a certain episode mark but rather continue with a story until it reaches an end that feels organic:
It'll be an eight or nine-episode season. The number of episodes will be dictated by the amount of story that excites us. We now know what is going to happen in season three to every character.
With all the characters' stories planned out for the third season, Shawn Levy revealed details about which Hawkins residents will step into the spotlight in Season 3, and which ones will take a bit of a breather for now. Most notably, after two seasons of putting Will Byers through hell, Hawkins' resident Upside Down survivor is going to get a break in the new season. Levy said that Season 3 will be the first season of the series in which Will is not at the center of all the terrifying, supernatural action. With Will taking a bit of a back seat, Levy teases that two characters we will be seeing more of in Season 3 are Dustin Henderson and Steve Harrington. The two characters formed an unlikely friendship in Season 2 that immediately became one of the highlights of the season, and now Levy says that the Stranger Things team wants to explore that connection even more, and see them become more like brothers in the new season.
So we have some idea about who will be taking up the helm of Season 3, but what new danger will come out of the Upside Down? At the end of Season 2, fans got a glimpse of the Mind Flayer, the tentacled shadow monster that Eleven managed to seal into the Upside Down in the season finale. While that creature still looks super threatening, Shawn Levy said that Hawins is going to be "dealing with forces of evil that are new" in Season 3 of Stranger Things. We have no clue exactly what that means right now, but I guess we are going to see something other then a Demogorgon or Mind Flayer wreaking havoc on Hawkins when the show comes back.
Unfortunately, we will have to wait a while before we can actually see Season 3 of Stranger Things for ourselves. Shawn Levy said that the production team is currently looking at the end of 2018 or the start of 2019 for the season premiere date. So yeah... it sounds like Stranger Things fans still have about a full year of waiting to do before we actually get to see any new episodes. There's also the possibility that this could be one of the final seasons of the show; a few months ago, co-creators the Duffer brothers hinted that they want the show to last four seasons, and then Levy added that a fifth season could be possible, but beyond that was unsure. I guess we better savor every bit of Stranger Things we get!