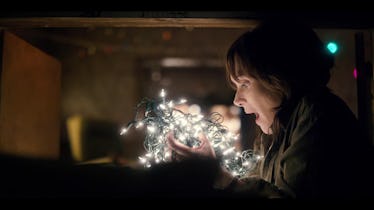 'Stranger Things' Was Already Renewed For Season 3 & Here's When It Premieres
Netflix
The things are going to just keep getting stranger, folks. We may be only on the cusp of the second season of Netflix's breakout sci-fi series Stranger Things right now, but the team behind the show is already working on Season 3. A couple of months ago, showrunners Matt and Ross Duffer (collectively known as the Duffer Brothers) confirmed to Vulture that Season 3 of Stranger Things is on its way. But that's not the only bit of information about the future of the show that the co-creators have spilled — here's everything you need to know about the upcoming third season of Stranger Things and beyond.
The first thing to know is that, unfortunately, the show may not be going on for much longer. When the Duffer Brothers confirmed that they're working on a third season, they also said that the plan for Stranger Things is to have it end after four seasons. So after you blaze through Season 2 on Friday, Oct. 27, that means you're probably going to be officially halfway through the entire series.
We're thinking it will be a four-season thing and then out... I don't know if we can justify something bad happening to [the kids] once a year.
With not many episodes left in the series as a whole, Stranger Things fans are going to want to savor every bit of the less-than-ten-episodes seasons that are already available on Netflix, and start looking forward to Season 3. Since it's still pretty early, we don't have a firm grasp on when Season 3 is going to drop, and the erratic release schedule of the first two seasons isn't much help. Season 1 dropped in mid-July of 2016, and Season 2 is about to come out at the end of October of 2017. If they follow that one year and three months gap, then Season 3 won't be released until around January of 2019. That seems like a long wait to me, though... I'm thinking since the show fits the Halloween season so well, they'll aim for another late October release date in 2018.
There is also some chatter about the Stranger Things team wanting to hurry up the release of its final two seasons, so we may be getting them even sooner than we thought. The Hollywood Reporter has reported that Netflix wants them to film Stranger Things Seasons 3 and 4 immediately back-to-back, hoping to finish the series before the child stars go through puberty and change to much. However, this extensive amount of shooting would be incredibly complicated given child labor laws, and the showrunners are reported to have turned down the idea, saying that their small writers room would make it impossible to churn out episodes that quickly.
Another interesting detail is that the child actors starring in the show are reportedly signed on for a six-year contract. But if the show ends after a fourth season, which will likely premiere towards the end of 2019, then are they out of their deals three years earlier than expected? Stranger Things is definitely one of Netflix's most popular and buzziest franchises right now, so even though the Duffer Brothers are saying the show will end after four seasons, if it continues its success up until the end, you better believe Netflix will be pushing for more seasons or even some sort of spinoff series. After all, the contracts would still be in place.
But all that stuff is still years away — for right now, we can all just enjoy the second season of Stranger Things, which is dropping its nine episodes on Friday, Oct. 27 on Netflix.