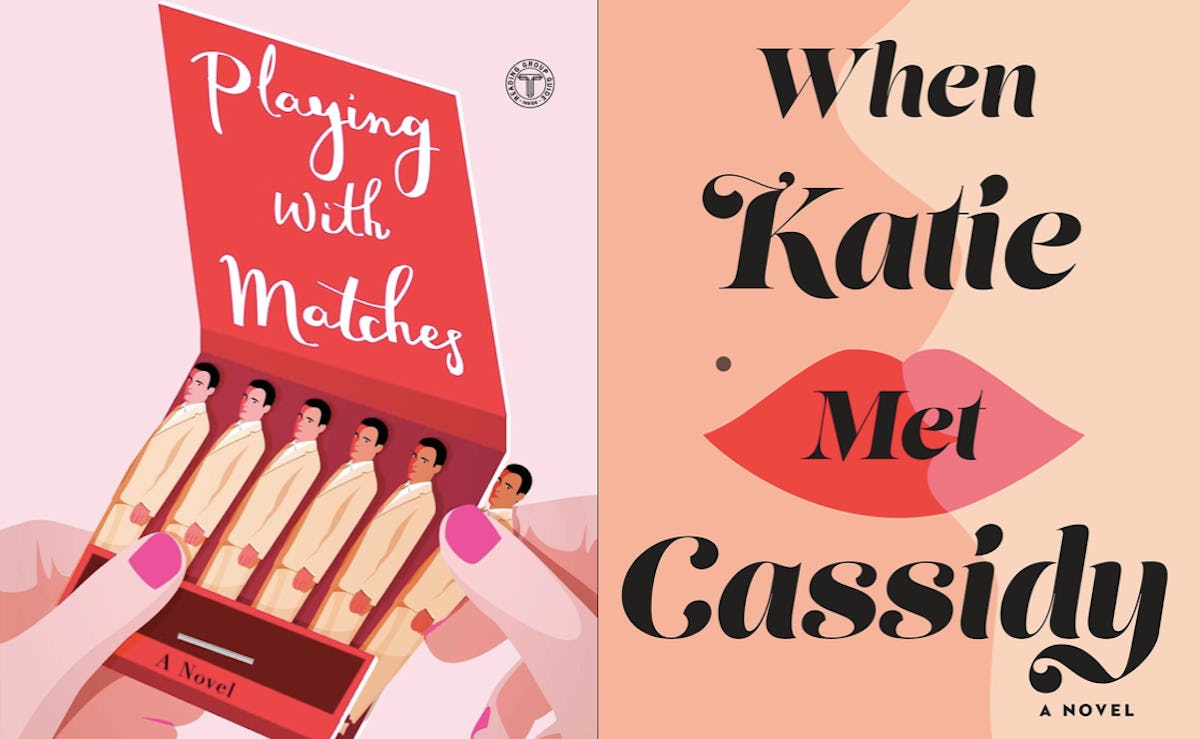 8 Books With Sexy Romances That You Need To Bring On Your Next Vacation
Touchstone + G.P. Putnam's Sons
Summer is the perfect time to escape to the beach, to the park, or your sunlit reading spot in your bedroom to read some books with love stories that keep you guessing the entire time. Sometimes, it's hard to put your finger on the exact kind of romance you're looking to get lost in (in real life or in fiction, honestly). I've done the fiction part for you, but you'll have to figure out the real-life romance stuff without me. I'm still working on it, too — so at least we're all in this together.
This year, I particularly loved short story collection Her Body and Other Parties by Carmen Maria Machado for its mystery and urgency. If you're looking for a unique New York narrative in which a journalism student turned matchmaker struggles with her own life be sure to check out Hannah Orenstein's Playing With Matches. For a romance with a toxic twist, you might love Carola Loving's Tell Me Lies. If you're looking to get lost in a summer romance, consider slipping between the covers of one of these fun reads. Snag one of these novels to stash in your purse on your way out the door.
In this psychological thriller turned romance, Laura Lippman illustrates a couple caught in the crosshairs of both a passionate summer affair and a murder shrouded in deceit. Perfect for the reader looking for both the sinister nature of Gone Girl and the passion of the novel Big Little Lies by Liane Moriarty.
Matchmaker Sasha Goldberg spends her time pairing members of New York's high society, in hopes of finding them The One. At first, her cosmopolitan life seems to be working out just fine — she has a glamorous job, an amazing best friend, a dreamy boyfriend. As her job starts to wreak havoc on her personal life, Sasha begins to wonder what boundaries she's willing to cross. When she falls for a charming writer that she previously matched with a client (making him strictly off-limits) — it seems like what's at stake might be worth the risk after all.
[Disclosure: Orenstein is an editor at Elite Daily.]
Katie Daniels thought she had it all figured out. When her fiancé breaks off their engagement, in walks Cassidy, a fiercely determined woman in a suit. Katie doesn't know what to think of her. Neither of them is able to ignore their connection for long. The following story is a New York City romance that depicts sexuality and community in a refreshingly new light.
I love a good romance narrative that takes place, at least in part, in New York City. There's something about the city that always hums with the chance of meeting someone that could change everything. Set in both small-town California and post-college New York City, Tell Me Lies chronicles a couple unable to truly walk away from one another. Lucy and Stephen's toxic connection unfolds and recoils in a way that will feel all too familiar if you've experienced a hard-to-shake first love.
Provocative, darkly sensual, and thrilling, Carmen Maria Machado's story collection is for readers with a hunger for urgent writing and passion that practically lifts off the page. This recommendation is for those that love both romance and thrill in their vacation reads. These stories will leave you in a cold sweat, with a quickened heartbeat, and a hunger for both ghost stories and love stories alike.
This novel tackles a gaping problem with modern dating: ghosting. Sarah and Eddie's whirlwind romance gets put on pause when he leaves for a short vacation. She expects to hear from him later, but never does. Her friends encourage her to move on. They say that it's clear what has happened here and yet is it? Eventually, we learn that Sarah was right to wait before deeming this disappearance just another ghosting. Ultimately, Sarah learns the dark truth about his disappearance.
Mathematician Stella Lane thinks she knows the logistics of almost everything. Despite having things seemingly figured out and job that puts her algorithms to the test to predict customer purchases, she doesn't quite have a grasp on love… or kissing. As a person with Asperger's Syndrome, Stella struggles to connect with others as easily as she would like. She is logical, meticulous, and brilliant — so when encountered with a challenge she doesn't quite defeat on the first try, she does the most sensible thing she can think of: She hires escort Michael Phan to show her the ropes. The ropes end up being nothing like what she expected and she surprisingly realizes how much she enjoys being tangled up in them with Michael.
What can I say? I'm a sucker for a meet-cute, and this novel delivers in so many more ways that the initial set up. Alexa is a determined chief of staff for the mayor of Berkeley, and when the pediatric surgeon she gets stuck with in a broken elevator invites her to be the date to his ex's wedding, she surprises herself by saying yes.
These novels will surely find a way into your beach bag or picnic basket as much as they will find a way into your heart. As continue on through August, there's no better time to delve into a romantic storyline for some recharging. Whether you're in a love whirlwind of your own or happily finding love within the covers of your books, these novels will make the perfect companions this summer.
Check out the entire Gen Why series and other videos on Facebook and the Bustle app across Apple TV, Roku, and Amazon Fire TV.
Check out the "Best of Elite Daily" stream in the Bustle App for more stories just like this!