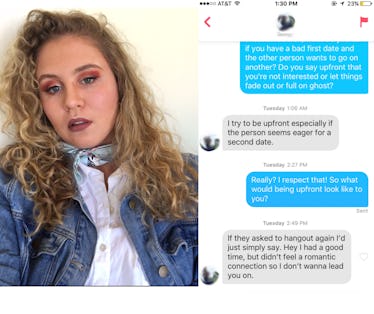 Is It OK To Ghost After A Blah First Date? I Asked My Tinder Matches For Input
Rejection is difficult. I think we can all agree on that. Recently, I found myself wondering if it's OK to ghost after a bad first date. The answer is complicated. Of course it's something you're allowed to do, as you don't owe anyone your time or care. However I was wondering what form of rejection would feel right for me. In the past, I have actually taken pride in being able to handle rejection. I even thought I was good at it until I was faced with a challenge: rejecting someone else.
What happened was this: Earlier this year, I started to go on a series of intensely "OK" first dates. They weren't horrible — I just didn't feel a spark, which actually made those dates harder to walk away from than my past nightmare-worthy ones. For me, dates where boundaries are crossed or people are rude have been hard to deal with, but I never for a second feel bad about not following up. Dates in which I had a fine time with a kind person became puzzles. I didn't want to hurt anyone's feelings. I started to feel exhausted with dating and found myself scheduling second and third dates I didn't actually want to go on. I kept thinking, "How do I turn someone down after a so-so date?"
When it came to these so-called, "so-so" dates, I usually found the person interesting. And we had a nice time talking over some food and a drink. It was just that I didn't feel that thing you feel when you've found someone really right for you. Eventually, I got burnt out on dating, I started canceling first dates without even going on them, and I even considered deleting my dating profiles. I was just too afraid that I would have to eventually reject someone.
Then it dawned on me. I realized who would have the best advice for me about rejecting someone: my future dates.
That's right. I went on Tinder (and disclosed I was writing a piece about what to do after a first date that was just OK.) And, with their permission, I've shared four responses that confirm that many people struggle with the question of what to do when things just don't have that spark.