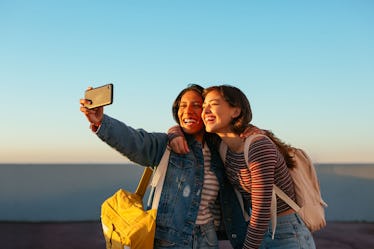 8 Best Experience Gifts You Can Give To People Who Don't Like "Stuff"
Bonninstudio, Stocksy
It's the holiday season, which means one thing: You're trying to find a perfect present for everyone on your list. You're running to the mall in search of a cute sweater for your mom, and scoping out the latest tech products for your best friend. (Do you think she needs another new pair of headphones? Help!) Truth is, as great as "stuff" can be, it's getting pretty #overrated. Let's face it: Your older sister doesn't want the same 'ole mugs and planners. The best experience gifts are on the top of their lists, because they'd rather make some memories than rack up more "stuff."
When you think about it, these kind of gifts can be a lot more meaningful and fun to pick out. They show the people you love that you pay attention to their passions and interests. Not to mention, after taking a pasta-making class or going zip-lining at an adventure park, your best friend will have a thousand stories and pictures to share. (You can't put a price tag on those!)
Grabbing tickets to a concert, scoring a sweet deal on a surf lesson, or wrapping up a girls' night at a paint and wine bar are all great options for gifts, too. But, these eight experiences will truly be what your best friend who doesn't like "stuff" is looking for underneath the tree. Ready, set, shop!