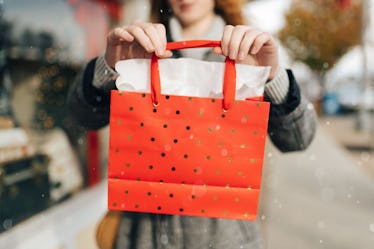 7 Things Only Millennials Understand About Shopping During The Holidays
Will the millennials who are shopping for presents right now please stand up? Yes, I'm talking about you over there, with a bunch of tabs open on your browser, as you look through gift guides and the trending products from various stores. Per usual, you're multi-tasking. You're trying to find the best gifts, watching a television show on Netflix, and cringing at some of the price tags. (The struggle and snuggle are real.) Are you the only one feeling this way? Nope! Actually, there are things millennials understand about holiday shopping that nobody else does. Trying not to break the bank is just scratching the surface.
Honestly, sometimes you might feel like the Grinch. You love rocking those cozy sweaters and spending time with your family, but the holidays can be exhausting AF. You spend your entire weekend at the mall, listening to Christmas music on repeat, and walking laps around the stores with heavy bags in your hands. Since when did this season call for cardio and weight-lifting? Excuse me, I signed up for baking cookies and watching movies in fuzzy socks!
Then, you get home, and continue your shopping online and check things off the list you've been keeping in your phone. You find some memes in your camera roll that lighten the mood, and start to get excited about giving everyone their gifts. The reaction is always the best part, right? Well, that and knowing every millennial understands these seven things around the holidays, too.