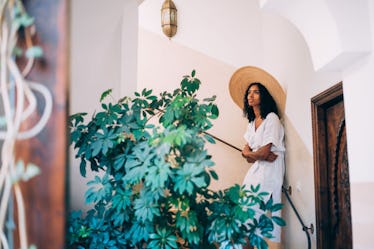 The Best Hotel Rewards Programs For This Year Are Here & Don't Hit Snooze On The Deals
When you're planning a trip, there's so much to consider. The destination is the easy part, because you have a bucket list full of dreamy places around the world that you want to go. But, finding the right accommodations and defining your travel budget isn't always as simple. First things first: the best hotel rewards programs for 2018 are officially here and definitely worth checking out.
It's not just about staying in five-star places for cheap, or even for free. No, it's also about all of the amenities that can come with rewards programs, like late check-outs and access to the yummy snacks in your room. You can join loyalty rewards programs at major hotel chains at zero cost, and rack up points with every stay — crossing your fingers that other perks fall into your lap along the way.
That's why you need to know some facts before booking any accommodations for your next trip. According to a recent study done by WalletHub, these are the best hotel rewards programs for 2018. Long story short: Don't hit the snooze button on the results.
What are the best hotel rewards programs for 2018?
WalletHub revealed that there are 10 hotel rewards programs that take the cake. These programs include, in top to bottom order: Wyndham Rewards, Best Western Rewards, Radisson Rewards, Marriott Rewards, Choice Privileges, World of Hyatt, Hilton Honors, La Quinta Returns, Drury Gold Key Club, and IHG Rewards Club. See some familiar names? Sweet! Then let's talk about why they made the list.
The results were generated by comparing hotel rewards programs run by the 10 biggest hotel chains in the U.S. WalletHub studied the geographic coverage (like the number of hotels in top cities), the value of the rewards, the limitations on the rewards, redemption options, and any additional features or policies (like if the points expire in the near future.) The data proved that these 10 programs are the best in the business — for travelers with all sorts of budgets and bucket lists.
What are some of WalletHub's tips for hotel rewards programs?
Although many of these rewards programs are free, looking through what you're going to get as the consumer and guest is always a good idea. You don't want to spend a bunch of money on a hotel to rack up points that will just expire in a month. But, you also don't want to spend all that time and energy researching the loopholes and where you might score big. That's where WalletHub comes in.
This company, along with tracking down the results, highlighted where you're not getting as much bang for your buck, and the deals you should be taking advantage of right now. They found that Wyndham Rewards is the best program for travelers at all spending levels, giving you back up to $14.30 in rewards for every $100 that you spend. In addition, Best Western is the only major chain whose points don't expire from inactivity. So, your credits from that hotel room you booked a few years ago for your bestie's bachelorette party will still be there and ready to use.
Where should a millennial travel consider staying for their next trip?
For a millennial traveler like you, rewards programs are a dream. They allow you to stay in top destinations, without breaking the bank. And sometimes those hotels with rooftop pools or aesthetically-pleasing suites are just better for the 'Gram (and a good night's sleep) — you know?
Based on this study, hotels with Wyndham Rewards should be first on your list. Staying at those properties will give you access to sweet rewards and amenities, no matter how much you travel next year. So, whether you hop on a plane once or a thousand times, you're going to see some return on the money you put in.
You should also consider staying at Marriott properties and participating in their rewards program, because they scored the highest in international travel. No matter where you decide to go in the world, there is likely one of these hotels waiting for you and your wallet. (Now that's a game-changer in itself.)
There is no doubt that traveling can be expensive AF, and millennials love to follow their wanderlust as much as possible. Not hitting snooze on these results helps a lot, though.