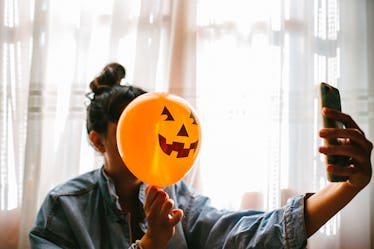 Download One Of The Best Apps For Your Witchin' Virtual Halloween Party
Elena González Hontoria / EyeEm/EyeEm/Getty Images
The invites have been sent in the group chat, so it's now official: You're hosting a virtual Halloween party. The night will be filled with pumpkin painting, vampire teeth, ghost stories, and sparkly orange streamers — but, everyone must bring their own candy corn and tasty brew. You've got it all figured out, except the technology part — aka, which apps are the best apps to host a virtual Halloween party.
Even after reading the descriptions in the App Store on your phone, it's hard to know which platforms will offer you the coolest features or will keep the audio and video synced up for a few hours. Will you be able to see everyone on your screen? Is there a chat button you can use when playing spooky games and trying to keep track of the score? These might be the questions you're asking yourself in preparation for Oct. 31.
The struggle can be real, especially in a year when a lot of your friendships are long-distance due to the ongoing coronavirus pandemic. So, here's the scoop on eight unique apps you can use for your virtual party. Read up to find the app that'll best serve you and your BFFs this Halloween, and then turn your focus to your clever costume and snagging a bag of that candy corn. Witchin' good times are ahead.