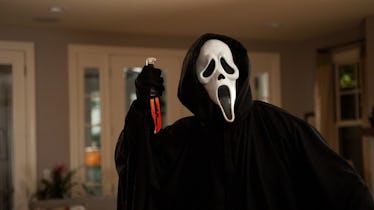 11 Scary Movie-Themed Halloween Party Ideas To Try This Year
YouTube
Halloween is truly the greatest holiday. Literally, an entire day (weekend, in my world) centered around candy, dressing up, and having fun. It's inching closer and closer — are you ready for it? You may be putting the finishing touches on your costume, but have you thought at all about the party? Outdo yourself by incorporating a few favorite classic horror movies into the decor. Scary movie-themed Halloween party decor ideas are fun and make amazing conversation starters.
Below are 11 scary movie-themed decor ideas that are easy and inexpensive.
1. Create Your Own Nightmare On Elm Street
Let your guest have a scary experience from beginning to end. Place an Elm St. sign at the end of your driveway, walkway, or hanging on your front door. The Elm St. sign above can be purchased on Amazon for less than $20. Keep guests mindful of the nightmares that lie within. MUHAHAHA. Too much? TOO BAD, IT'S HALLOWEEN.
2. Decorate With The Blair Witch Project Stick Figures
There was so much mystery surround The Blair Witch Project. One thing was for sure, these stick figures were a sure fire sign to get the eff out of there. Decorate around your party with these omens to create the perfect Halloween atmosphere.
The tutorial above is extremely easy to follow. You'll need a few sturdy sticks, twine, scissors, and garden sheers. Basically, you just form the sticks into the shape you want and secure with twine. Easy and festive.
3. Curse Your Guests With The Tape From The Ring
Everyone was freaked out by The Ring. Watching the cursed videotape was basically your ticket to dead-ville. Set the mood of your party by having all the TVs in the room play the cursed tape from The Ring. Use your Roku or Apple TV to stream it on YouTube or connect your laptop to a TV with the proper HDMI cable.
4. Bloody Knife Cupcakes From Scream
The Scream movies are the ultimate fear-inducer. Everyone (and I mean everyone) recognizes the iconic Scream mask. In addition to the mask, the killer always had a bloody knife. Incorporate Scream into your dessert table with these unforgettable cupcakes.
This recipe from Crayons and Cravings has a homemade "blood" frosting recipe that is very easy to follow. It calls for:
1 egg white
1/4 tsp cream of tartar
3/4 cup powdered sugar
1/4 tsp vanilla
1 rubber barbecue brush
Red gel food coloring
There's also a recipe for homemade cupcakes, but I like that you can apply the "blood" to any store-bought treat.
5. Party Favors Straight Out Of Silence of the Lambs
Silence of the Lambs is scary as hell. Hannibal Lecter ate people (which was scary), but Buffalo Bill legit gave me nightmares. "It puts the lotion on it's skin or else it gets the hose again" induces goosebumps.
If you want to have a terrifyingly easy party favor, look no further than some custom Buffalo Bill lotion. You can buy the Buffalo Bill sticker above from Red Bubble for less than $3 a piece. Then, label your own travel-sized lotion bottles and give them out as a "thank you" for coming. You can buy a variety of lotions for $1 each at Dollar Tree.
6. Where's Jigsaw?
I don't care who you are or what genre of movie you like — everyone has seen a snippet from at least one Saw movie. We all know who Jigsaw is and what his voice sounds like.
The concept is simple. Hide Jigsaw somewhere around the party and wait for someone to scream in fear (or surprise). My suggestion is to write on the bathroom mirror "Want to play a game?" in lipstick and wait for the panic to set in.
Eventually, your party guests will join in and take turns hiding Jigsaw around to scare the actual crap out of more people. Find a Jigsaw cutout for $21.48 on Amazon — how could you pass up this fun and frightening idea?
7. Add Red Balloons From It
It is a newbie in the scary movie world, but it's basically already a classic. Place various red balloons around your party to create an ominous and scary vibe. Start by placing a single balloon on your front porch. Get creative, sneak one in the fridge or prank a friend by sticking one inside their car.
Red balloons are so cheap. Pick up a bag for $2 at Target and the possibilities are truly endless.
8. Drink Friday The 13th Style
Nothing will get you in the Halloween spirit like festive drinkware featuring the terrifying murderer from Friday The 13th. If you're crafty, I say go for painting your own mugs. You can buy a set of six from Walmart for only $10.
If not, buy the cute ones above on Etsy for $20 each.
9. You're Going To Need A Bigger... Punchbowl
Jaws isn't exactly a traditional Halloween movie, but it left me creeped out and terrified of the ocean. I think we can all agree it's scary AF. Add some Jaws flare to your party by adding a potential shark attack in the drinks. The shark fin ice tray above is less than $5, and honestly, I think you just need it in your life.
10. Haunting Masks From The Strangers
The Strangers was a defining scary movie from my teen years. The scariest part? YOU NEVER SAW THE CRAZY MURDERERS' FACES. They literally just tortured these two people for no reason and carried on with their messed up lives.
Enter your guests' nightmares by using these masks as decor at your party. I mean, I guess you could just wear a mask and scare the bejesus out of your guests, but I like the idea of them adding a little scary touch to your drink or food table. The mask above is available on eBay for $6. You can also buy the classic brown sack mask for under $30 on eBay.
11. Bloody Towels After The Texas Chainsaw Massacre
Set the mood of your party by setting out "bloody" bathroom and kitchen towels. Besides being disturbing, it's relatively cheap to do. You really only need one towel for the bathroom and maybe one for the kitchen. Target sells hand towels for less than $10 a piece. Then, use red paint or fake Halloween blood — you can buy a pint of it for $7.99 at Party City — and go to town making creepy handprints and blood smears.
Add a real Texas Chainsaw Massacre affect by placing a toy chainsaw on the bathroom counter. The Leatherface Chainsaw above is $16.99 at Party City.
If you love Halloween, parties, scary stuff, and basically everything fun — try these decor ideas this year. Give a little nod to your favorite scary movies to make 2017 an unforgettable Halloween. I guarantee your guests will love the effort you put in and will be talking about your kickass party for years to come.
Check out the entire Gen Why series and other videos on Facebook and the Bustle app across Apple TV, Roku, and Amazon Fire TV.