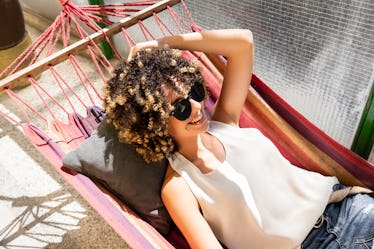 These At-Home Birthday Ideas For Virgos Will Make You Feel Peachy Keen
freemixer/E+/Getty Images
Kicking your feet up at home may not seem like the most exciting type of birthday at first glance. But, Virgo, hear us out. You work so hard. You turn your dreams into reality, and start most days jotting down to-do lists or double-checking your planner. It's #necessary to give yourself a day to relax, play, and recreate these clever at-home birthday ideas for Virgos. Each will leave you feeling peachy keen, because they're specifically for your star sign.
It's your season now, and all of the planets and constellations are aligning for you. From August 23 to September 22, you may feel more in sync with the universe and the people you care about. You may jump out of bed with extra energy every morning, and bring attention to your goals, life, and even the amazing meals you make throughout the week.
Typically, you'd rather work your magic from behind the scenes and not in the spotlight. But this season is your time to shine. It always brings out something fresh and exciting in you and serves as a time to reflect on what makes you such a thoughtful, inspiring, bold, and ambitious human. That's why, even if you're just kicking it at home, you should celebrate your birthday by recreating one of these ideas.