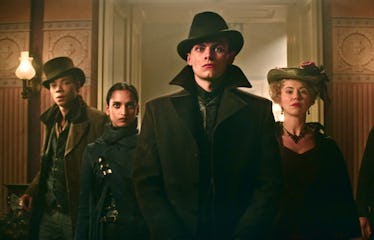 76 'Shadow And Bone'-Inspired Group Chat Names For Your Crow Club Crew
Netflix
Ever since you finished marathoning Netflix's Shadow and Bone, your group chat has been nonstop texting each other back and forth. You keep getting notifications as your besties send you different LOL-worthy memes and fandom TikToks. One of you may even be in the middle of a rewatch, and needing to keep the rest of the crew updated on your thoughts. To stay on the theme of your latest discussions, you need some Shadow and Bone-inspired group chat names to give your convo the upgrade it deserves.
Whether you and your friends have been besties since you were kids like Mal and Alina or you're a ride-or-die crew like Kaz, Inej, and Jesper, a group chat is a must. Furthermore, no group chat is complete without a fun name, so it just makes sense that you would give your Shadow and Bone-loving friends a group chat name worthy of the Grishaverse. Since the Netflix show covers not only Leigh Bardugo's Shadow and Bone book trilogy, but the Six of Crows duology as well, there are a lot of references to pull from.
Go with a bold Nina line from the series if your friend group is full of sassiness or something heartfelt like Mal's letters to Alina for a crew that truly cares for one another. There's even a vast Grishaverse glossary of words you could adapt for your chat. All you need to do is send this list of 76 Shadow and Bone group chat names to your friends now, and see which one sticks out as a fave.
The Ravkans
Enter The Fold
Darkling Darlings
Malina Shippers
Team Darklina
The Six Of Crows
Going Stag
We Are Mapmakers
Miserable Lumps Of Muscle
The Mals To My Alina
My True North
Blue Irises Only
My Amplifiers
Heartrenders
Oh, For Saints' Sake — Nina
The Mighty Fjerdan
Nina And Matthias Forever
Love A Waffle Lot
Sun Summoners
Into The Grishaverse
Heart Brekkers
My Witches
The Dregs
Ketterdam Crew
Hug The Goat — The Conductor
Beware The Volcra
My Healers
My Corporalki Crew
Drüskelle Dudes
We Are Grisha
Fine, Make Me Your Villain — The Darkling
I'll Always Find You — Mal
The Etherealki
Second Army Brats
Emotional Support Goats
Jesper Forever
On Wednesdays, We Wear Blue Kefta
I See You Now — Mal
Orphans Of Keramzin — The Darkling
Oh Really Doe
Meet Me In The Meadow — Mal
Little Palace Guests
Ketterdam Right
Order Of Fabrikators
Stag Party
Jes Has A Point — Inej
Follow — The Darkling
Shadow Folders
Tracking It Down
Pen Pals
Feeling Fold
Sandskiff Sailing
Just A Bunch Of Heretics
Malina > Darklina
Here Comes The Sun — The Beatles, "Here Comes The Sun"
It's Only Your Shadow — Britney Spears, "Shadow"
First Army Is The Worst, Second Army Is The Best
We Are Otkazat'sya
Dregs's Crow Club
It's Suli, For Friendship — Jesper
Just Ask — Jesper
I Heartrender You
You Light Up My Life — Debby Boone, "You Light Up My Life"
Hanging Witch You
Witch Way To Fjerda
Shadow And Bone Appetit
The Sun To My Shadow
Taking Over Ravka
Summoning Some Fun
Ketterdam Good Looking
We'd Rather Be In Os Alta
Materialki Mates
Kerch Klub
You Can't Summon With Us
Order Of Summoners
Water You Up To, Tidemakers