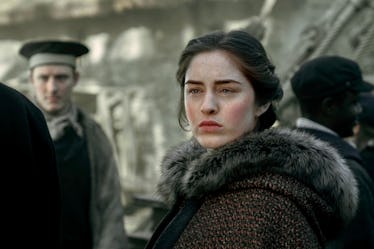 Nina's Quotes On 'Shadow And Bone' Are Powerful & Bold, Making Them Perfect For IG
Netflix
The world of Netflix's Shadow and Bone has so many interesting characters from Sun Summoner Alina Starkov to the Darkling (aka General Kirigan). It incorporates the entire Grishaverse from author Leigh Bardugo, which includes both the Shadow and Bone trilogy and King of Scars duology. From the King of Scars troupe, you get to meet Nina Zenik, a Heartrender Grisha, who is bold and strong in both the books and the new show. She has a bit of that sassiness that you aspire to have daily, so why not add a bit of that bravado to your Instagram posts with some Shadow and Bone Nina quotes?
Warning: Spoilers for Shadow and Bone, Season 1 follow. Things don't necessarily go Nina's way in the show. She's kidnapped by the Drüskelle and stuck with Matthias, who is not exactly the nicest to her. (He is a witch hunter, after all.) Ultimately, though, Nina wins him over with her charm. You've got some charming qualities as well, which is why any of these 41 Nina quotes from Shadow and Bone would work perfectly as a caption for your next Instagram post. Use one of her more blunt lines from the show when posting a selfie of yourself looking fab. You could even use a straight and to the point quote when you're off on your next daring adventure.
"Your trials are a shame, just like you and your friends."
"Come on you miserable lump of muscle."
"Oh, for Saints' sake! I really hope not."
"It was five on one.
"Trust me."
"Such honor, how noble!"
"I can fix this."
"You were there."
"You're scared that if you laugh at my jokes or answer my questions, you might start to think that I'm human."
"I can't swim and keep both our bodies warm."
"Your wet clothes will be the death of you."
"I thought you respected your women."
"You want something from me."
"Were you born a prick or was it a choice?"
"Suit yourself."
"What do they teach you? Aside from the fact that we're evil and should be burned at the stake?"
"Why am I even arguing with you?"
"I speak six languages. It's part of my job."
"You're not here to change your mind on anything. Only to make yourself feel better about sending me to my death."
"That all depends on what side of the border we're on, isn't it?"
"I have the body heat and the power to help keep you warm."
"Well, I guess that makes you good at your job."
"I'd rather starve than be a traitor."
"Nothing you need to hide. You're just a man. Like all the others."
"You're cold and clammy. It's like lying next to a burly squid."
"I will not take scraps from the likes of you."
"It was my power keeping you warm, Drüskelle."
"Slow down! For Saints' sake! Walking fast isn't going to make us any less lost."
"You really need to relax."
"If I wanted you dead, I would have slowed your heart instead of speeding it up."
"And you need my power not to freeze to death."
"This is strenuous work."
"The mighty Fjerdan has fallen. You are powerless to resist me."
"I like it when you turn red."
"I'm just trying to stay warm."
"Now that sounds like a recipe for a lot of very unhappy people."
"I mean, you're welcome to grow a beard, but only for the purposes of keeping me warm."
"Maybe they have waffles."
"I can't wait to introduce you to my truest love."
"Saints, I didn't know you could laugh."
"I'm not done tormenting you."