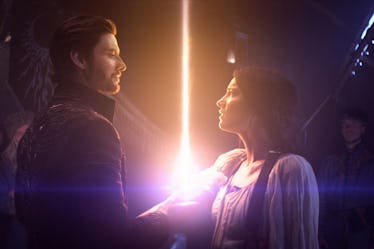 22 'Shadow And Bone' Vocabulary Words To Know If You're New To The Grishaverse
Netflix
One of the best parts of the fantasy genre is getting to dive into a brand-new world full of adventure and magic, and Netflix's Shadow and Bone definitely delivers on that front. But to those new to the franchise, the complex setting can be a little confusing. To help you enjoy the show to the fullest, here's a list of Shadow and Bone vocabulary words that belong in your Grishaverse glossary:
Based on a series of novels by author Leigh Bardugo, Shadow and Bone takes place in a world split in two by an unnatural, monster-filled darkness called the Shadow Fold. The series follows a young orphan named Alina Starkov (Jessie Mei Li), who discovers she is a Grisha (a manipulator of elements) with the rare ability to summon light. Her newfound powers make her a crucial asset to the Kingdom of Ravka, but they also force her to reckon with others who hope to exploit her abilities for their own gain.
Although the world of Shadow and Bone was inspired by Russian mythology, it's a dangerous yet exciting world of its very own. Whether you're new to the series or just want more context as you watch the show, check out this list of terms from Shadow and Bone, which will help you better understand the Grishaverse as a whole.