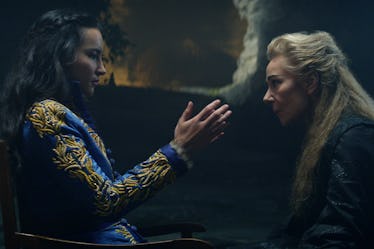 The Full 'Shadow & Bone' Trailer Is Here & OMG, It's Epic
Netflix
Netflix's wave of fantasy titles has only just begun. The latest is an adaptation of Leigh Bardugo's Grishaverse trilogy called Shadow & Bone. Based on Russian folklore, the series follows a young orphan, Alina Starkov (Jessie Mei Li), who discovers she is a Grisha (a manipulator of the elements) who has a very rare ability. As fans count down the days until Netflix's Shadow & Bone release date (April 23), here's what we know about the series so far:
Like Netflix's runaway hit The Witcher, Shadow & Bone is inspired by Eastern European folklore; although this time, it's Russian-based instead of Polish. As author Bardugo put it in quotes shared via Netflix: "Think Imperial Russia, not Medieval England; repeating rifles instead of broadswords."
It's a story of magic and betrayal. In the book series, Alina's abilities make her a valuable asset to the Kingdom of Ravka, where she was raised, and a target of assassination from its enemies. She's taken under the wing of the head of the Grisha, known as the Darkling, but it turns out, not all her enemies are outsiders. Some are the people she trusts the most.
The latest trailer for Shadow & Bone outlines Alina's journey, but also serves as an introduction to the fantasy world of the Grishaverse.
This article was originally published on