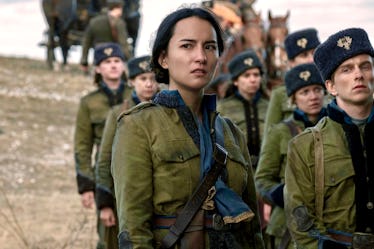 This TikTok Quiz Will Reveal Your 'Shadow And Bone' Character Alter Ego
Netflix
You may have finished Netflix's series Shadow and Bone, but you're not ready to say goodbye to Ravka and all its characters just yet. While you could rewatch the entirety of Season 1 all over again or read any of the Grishaverse novels from Leigh Bardugo, there's another fun way for you to immerse yourself in the show. TikTok's Shadow and Bone quiz will reveal which character you are just by answering a few personality questions.
Are you more of a schemer or are you always honest? Do you tend to be a leader in group projects or are you big on collaborating within your crew? These are just a few of the questions the Shadow and Bone TikTok quiz will ask you to determine which character you are. Many TikTokers have already tried it out for themselves. In fact, the #ShadowAndBone tag on the video-sharing app has over 4 billion views, so it's time for you to join in on the fun. All you need to do to take the Shadow and Bone quiz is to use the "Shadow & Bone Quiz" effect on TikTok. Once you have it selected, record yourself answering the questions by tilting your head either left or right. There are five questions — once you've answered all of them, the character you're most like will pop up on the screen.
Are you a strong but quiet Sun Summoner like Alina, or are you a flirtatious leader like General Kirigan? You'll just have to take the Shadow and Bone TikTok quiz like these seven other TikTokers to find out for yourself.