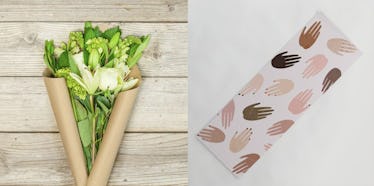 Spoil Yourself This Valentine's Day With Any Of These 7 Indulgent, Yet Affordable Gifts
The Bouqs Company/Society6
Out of all of the relationships you will have in your life, the longest and deepest connection will be the one with yourself. Whether you have a romantic partner or you're loving the single life, Valentine's Day is the perfect opportunity to show yourself some extra love. Every day can be a self-care day, but there's something special about a holiday dedicated specifically to showing and accepting love that makes it a great reminder to nourish your heart and your body a little more than usual. These Valentine's Day gifts to give yourself are just the thing to help you celebrate you on Feb. 14 (and long after).
Whenever I think of self-love, the episode of Parks and Recreation where Donna and Tom dedicate an entire day to treating themselves always comes to mind. It can be easy to talk yourself out of buying little goodies in order to save money, or because you don't necessarily need them, but even a small special treat can do a lot in terms of bringing you joy.
None of these gifts will break the bank, so choose one (or hey, a couple) that's perfect for your individual interests, and you're sure to feel extra appreciated on the upcoming holiday. As you open up your present from yourself, take a moment to meditate on all of the wonderful things you love about who you are.