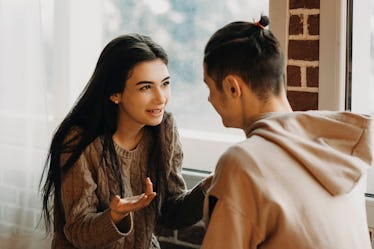 7 Tips For Talking To Your Partner About Body Insecurity During Sex
Shutterstock
Maybe she's born with it. Maybe it's years of cultivating self-love and unlearning toxic beauty standards passed on in teen movies from the 2000s. TL;DR: Learning how to feel good in your body, and embracing your sexuality can be a lifelong practice. And finding empowering ways to talk to your partner about body insecurity during sex can help everyone live their best (sex) lives.
"Body acceptance isn't night and day, it's a gradual process," Lola Jean, sex educator and mental health professional, tells Elite Daily. "Speaking truths to ourselves, rather than attempting to force ourselves to believe something that doesn't resonate."
As Jean shares, feeling at home in your body is a deeply personal and individual journey that can look different for everyone. And whether you hate how your belly looks in a certain position or get stressed about how your thighs feel on your partner's waist, it's natural to get in your head when you're sharing your bed. But you are a flawless angel, and you deserve to be having the best sex you can be.
If you're interested in opening up to your partner about where you're at with your body, here are seven tips from four different experts about affirming body language — I mean, affirming language about your body.