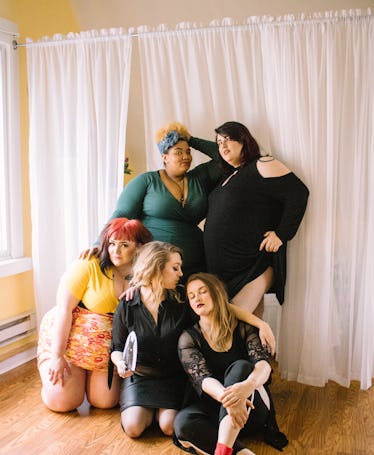 I Hosted A Body Positive Workshop & Was Overwhelmed By The Community I Found
I've always been plus size, and I spent most of my life absolutely loathing my body. I used to feel like I was too overweight to live a good life, so I isolated myself and was constantly uncomfortable in my skin. It's no wonder why I felt this way, really. America is an extremely fat-phobic society. People with bodies like mine are always depicted as "before" pictures in advertising — as if we're just problems to be fixed — and the overwhelming majority of television shows and films portray plus size people as comic relief, rather than complex people living interesting, dynamic lives. Because of my experience learning to love and accept my body, I decided to host a body positive workshop, and help teach all women to love themselves, no matter who they are.
I want everyone to feel the liberation that comes with learning to love yourself, so I decided to bring women together to talk about what might be holding us back from doing so. Even though I'm autistic, and usually shy away from collaborative endeavors, I really felt compelled to put a self-love workshop together for women in my home city. I decided to muster up some courage and overcome my natural inclination to go at it alone, all in the name of empowering other babes. I'm so glad I did. Here are a few things that happened when I hosted my own body positive workshop.
Concocting Over Cocktails
My friend Meredith and I concocted the idea of a body positive workshop over cocktails one evening. It was late at night, and we'd stayed up talking about our own journeys to self-love. I wanted to put together a multi-faceted event that touched on a lot of different aspects of body positivity, because the journey to self-love isn't linear.
In my experience, boudoir modeling has really helped me to get comfortable in my skin, and I knew I wanted the guests to experience that same feeling. Photographer Olivia of Esoteric Lens excitedly agreed to treat all guests to boudoir shoots so they could have their moment in the spotlight. I bought a bunch of gold and pink party decorations from my home away from home, Target, and Flowers for Dreams donated gorgeous, fresh bouquets that really elevated the decor. The workshop featured poetry readings, guest speakers, makeup artistry, individual boudoir shoots for everyone, and, of course, a little champagne.
A Bit Of Catastrophe à la Mercury Retrograde
Of course, I didn't have the foresight to check for planetary retrogrades while planning the workshop, and it landed smack-dab in the middle of a powerful Mercury retrograde. Things never really go according to plan while Mercury is in retrograde, so I shouldn't have been so surprised when, while I was out, my Mastiff dog decided to go on a snacking spree that turned dangerous. The day before the workshop, my 130 lb pup, Snuffaluffagus, decided to break down the kitchen gate, rummage through the pantry, garbage, and fridge, and give himself nearly-lethal chocolate poisoning by mowing down the 36 cupcakes intended for the event.
After a very expensive overnight stay in the veterinary ICU, he survived, but it was really touch-and-go for a while. I wasn't even sure the event would take place, and that was honestly the least of my worries. After he was released from the ICU, my husband saved the day by making himself available to look after him while I hosted the workshop. It ended up being just what the doctor ordered for me. The workshop was a really cathartic, healing experience after such an emotionally-charged, scary time. Hopefully Snuffy learned his lesson, but I put locks on the fridge, cupboards and pantry, just in case.
Pretty and Pampered
I rented a neat attic loft space for the workshop, and Olivia started off with boudoir shoots to capture the great lighting filtering in through the many windows. My pal Meredith is a makeup artist, and she treated everyone to little pre-shoot makeup touch-ups to get them ready for their close-ups. She made sure everyone looked and felt their best for their shoots.
Boudoir Shoots for Body Love
I'm a model, so I gave a little crash course in boudoir modeling during a brief demo, and helped direct everyone during their shoots. Participant Taylor Belmer said of her boudoir shoot, "Never having done a boudoir shoot before and feeling nervous to do one, I'm so happy that all of the ladies were super encouraging! I jumped in and gave it a go, and left wanting to do more shoots like it in the future! I learned a lot about myself and deepened my self-love even further."
It was such a fun experience, and everyone was super encouraging and supportive of each other. It was honestly super touching to witness.
Powerful Poetry
Lilo Allen is a sensational, powerful Milwaukee poet. I once modeled with her in a shoot by Esoteric Lens, and she recited some of her work for me back then. I immediately fell in love with her bold delivery, inspiring and sometimes gut-wrenching revelations, and creative word choice. I knew I absolutely had to have her read some of her body-positive poetry for us at the workshop, and was thrilled when she agreed to.
She also makes luxe body care items and sells them from her online shop, Papyrus and Charms. I bought a bunch of her bath bombs to give to everyone who attended, in cute little gift bags. After all, self-care is essential, and we all deserve to treat ourselves.
Courageous Convos and Chilled Champagne
We munched on cute cupcakes and enjoyed luxe mimosas from the mimosa bar, while the guest speakers spoke about sex positivity, learning to love your body just as it is, and how to stop bullying yourself. It was all very intimate and conversational. The vibe was totally chill. We were just a bunch of women hanging out and having important, reflective, and fun chats about self-care and self-love. I'd been nervous about speaking publicly, but the laid-back vibe had me feeling courageous and comfortable to talk about my journey from total self-loathing to radical self-love.
The workshop was gorgeous and full of powerful energy. Oddly enough, almost everyone who attended was a water sign astrologically, and it made for an intense, healing experience. It was a really great event full of laughter, thoughtfulness, and empowerment. It really struck me just how important community is and how powerful having other women to lean on can be. Though I usually prefer to do things my way, alone, this body positive workshop showed me that I don't need to be an island all of the time, and that there's so much beauty to be created by collaborating with others. The whole experience has made me more open to creative collaborations, and I'm super excited to start planning my next workshop. There's so much power in community if we give others the chance to shine.