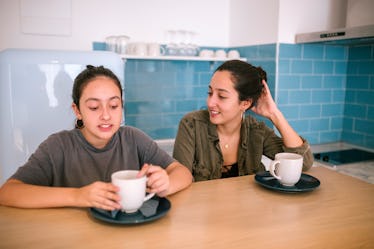 7 Tips For Coming Out To Your Siblings, Because It's Not Always Easy
Shutterstock
Expressing who you are to the people you grew up with is no small feat. Whether you're super close with your hippie little sister or you only talk to your tech-bro brother at mandatory family gatherings, dropping, "Hi, I'm queer!" isn't always easy. So, no matter who you are or where you're at in your queer journey, consider these tips for coming out to your siblings like an old family recipe for living your truth.
"Coming out to family can be really challenging, as there is often a lot at stake," Jor-El Caraballo, co-creator of holistic wellness center Viva Wellness and a therapist specializing in LGBTQ clients, tells Elite Daily. "The risks to emotional and psychological safety are high — and in some extreme cases, even physical safety."
Of course, you and your identity are valid no matter who "knows" about it. Though you may love your siblings, opening up to them about your gender identity and sexuality isn't for everyone. If you're not ready, comfortable, or simply not interested in sharing your identity with your siblings, you never need to feel pressured.
If you're gearing up to come out to the people that you grew up with, here are seven tips.