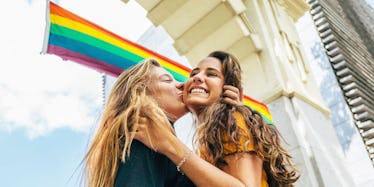 6 LGBTQIA+ People Reveal The 1 Thing They Want Allies To Know About Coming Out
National Coming Out Day, Oct. 11, is a time to celebrate and honor queer people's diverse coming-out stories. There's no one "right" way to come out, and no two people will have the exact same experiences. If you're LGBTQIA+ but not ready to share that information with the world, you're no less queer than anyone else. There's a lot that straight allies should know about coming out. After all, if you're straight, you've probably never had to come out as straight before — so it's important to listen and understand how you can be the most respectful ally possible, today and every day.
When I came out, it took me a little more than a year to tell most of the people in my life. I didn't know what to expect. I didn't want to make a huge fuss over coming out as pansexual, since it didn't seem like that big of a deal to me. The number one thing I was concerned with was getting assurance from people that they loved and supported me. That's all I really cared about — that people wouldn't view me any differently after learning about my sexuality (unless, of course, they were also A GayTM and we'd bond over that together).
I spoke to six queer people to learn more about what they'd want their straight friends and family to know about coming out. It's important to note that no two queer people are the same, and they each have different opinions on what they'd like straight allies to know. But across the board, everyone affirmed that they'd want to be respected and supported. What that looks like for different people, of course, varies.