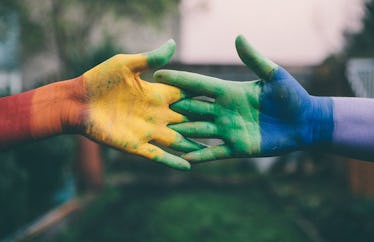 How To Be An Ally On Coming Out Day, According To An Expert
Coming out for the first time undoubtedly a pivotal moment in any LGBTQIA+ person's life. The act of coming out can involve self-affirmation, opening up to loved ones, and fostering a feeling of belonging to the LGBTQIA+ community. So it's fitting that there's an entire day dedicated to honoring this experience — and Oct. 11, 2018, marks the 30th anniversary of National Coming Out Day. If you're not a member of the LGBTQIA+ community, and wondering how to be an ally, know that there's no better time to celebrate the powerful act of coming out. While Coming Out Day is about honoring LGBTQIA+ people, allies can still play a role in showing their acceptance and support.
National Coming Out Day, which was founded by The Human Rights Campaign (HRC) in 1988, is aimed at honoring the experiences of LGBTQIA+ individuals while also educating allies on how to take action. According to the HRC, one out of every two Americans has someone close to them who is gay or lesbian, but that number is only one in 10 for transgender people. While cultural attitudes toward the LGBTQIA+ community have improved over the last 30 years since Coming Out Day launched, there is still much work to be done around promoting acceptance and understanding of and within the LGBTQIA+ community.
As the HRC aptly puts it: "Every person who speaks up changes more hearts and minds and creates new advocates for equality."
Being an ally can help to shift perceptions of and attitudes toward the LGBTQIA+ community, but what does this role mean? How can you embody it in the most effective way? Moreover, how can you use your voice to create change and improve the lives of those who have been historically marginalized? Allies have a responsibility to educate themselves and others on the importance of acceptance and equality, and they can do this in a number of ways. Of course, being a good listener, and keeping an open mind, are essential — but there is so much more to this role. Here's what you can do to be the best possible ally on Coming Out Day, according to Clare Kenny, GLAAD Director of Youth Engagement.